Michelle Potter-Bacon Named LBJ School Alumni Affairs Coordinator
AUSTIN, Texas-- Sept. 21, 2010-- The Lyndon B. Johnson School of Public Affairs is pleased to announce the appointment of Ms. Michelle Potter-Bacon as Alumni Affairs Coordinator.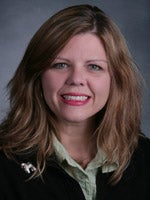 Michelle comes from the Hubert H. Humphrey Institute of Public Affairs at the University of Minnesota, where she was the coordinator of alumni and employer relations. In her seven years in that position she revitalized their alumni network by creating a 21-member alumni board, developing a vibrant local events schedule, and building up its Washington, D.C. chapter. She also collaborated on a highly successful employer relations program to assist current students as well as alumni.
In announcing her appointment, LBJ School Dean Robert Hutchings noted, "Even before my arrival as dean, I set building up our alumni network as one of my highest priorities. I have met since then with hundreds of alumni here in Austin and in Washington, D.C. to solicit their views and enlist their support."
"I could not be more pleased that we were able to find someone as accomplished, energetic, and engaging as Michelle Potter-Bacon to be our new alumni coordinator," Hutchings added. "I know that alumni will feel the same way as soon as they have a chance to meet her. We are fortunate indeed that Michelle will be joining us, so that she can turn her energy and talents to building up the LBJ School alumni network."
Michelle will begin her duties as the LBJ School alumni affairs coordinator on Oct. 1.
Michelle has a B.A. from Saint Olaf College and an M.A. from the University of Minnesota.