LBJ Student Leah Bojo Receives 2010 Spirit of LBJ Award
AUSTIN, Texas-- Sept. 2, 2010-- On August 26 the LBJ School Austin Alumni Association hosted a welcome happy hour which offered a chance for incoming LBJ School students to mix and mingle with area alumni, as well as current students and faculty. The happy hour festivities also provided the perfect opportunity for the Austin Alumni Association to present this year's Spirit of LBJ Award to current dual-degree student Leah Bojo, who is seeking her Master of Public Affairs (MPAff) and Community and Regional Planning degrees.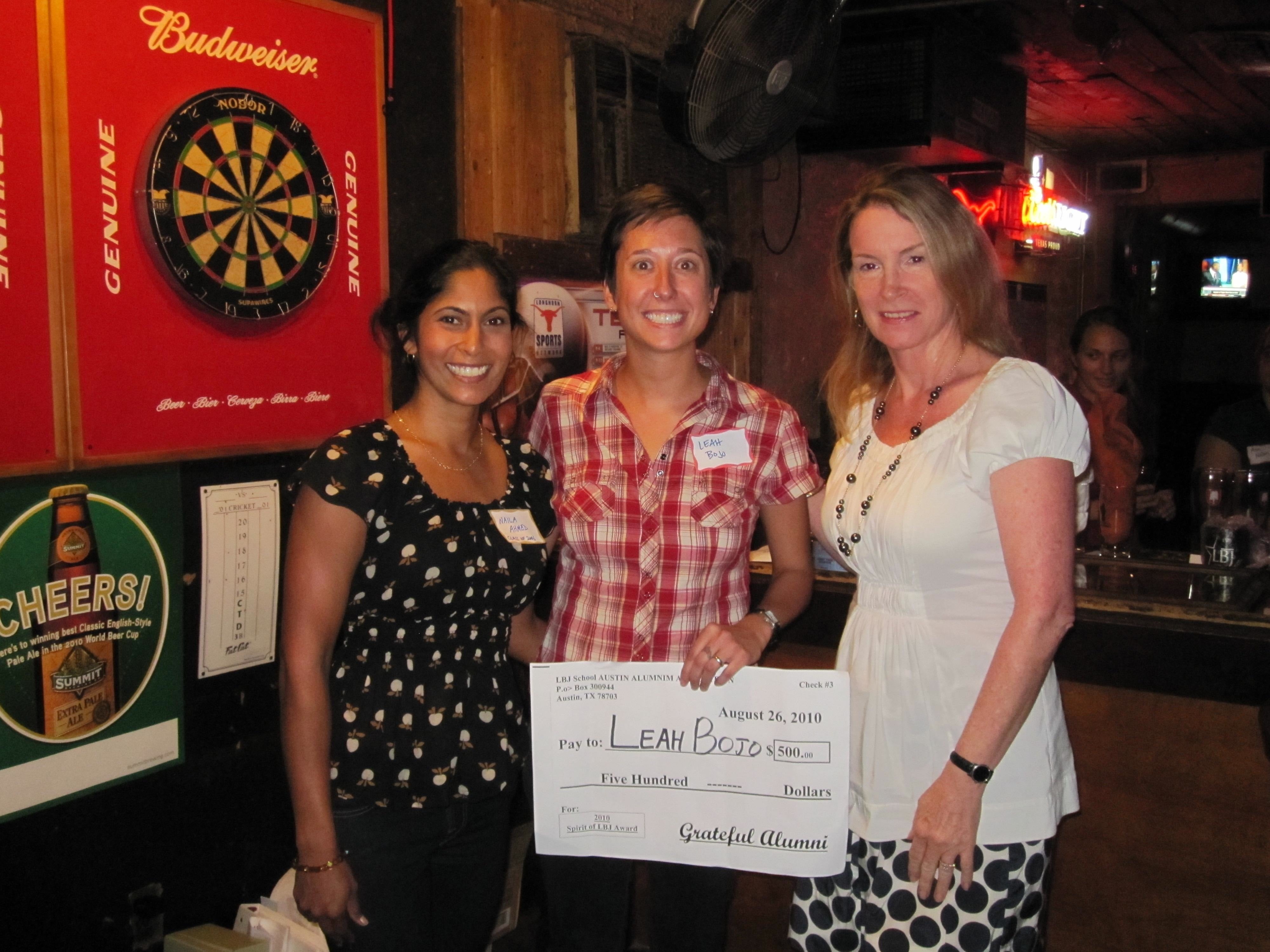 "I am honored and grateful to receive an award that represents the essence of the namesake of our school," Bojo said. "Being presented with the Spirit of LBJ Award reminds me of the reasons that I chose the LBJ School and of all that I am learning here and will soon take out into the world."
The Spirit of LBJ Award was created to honor fellow alumnus Courtney Brown, who exemplifies the spirit of LBJ through her work with the School. The scholarship money is raised directly from alumni and friends and the scholarship will only be awarded as long as funding continues, which is currently expected to be at least another two years.
This year, the Austin Alumni Association received six nominations for the award, and all six nominees showed dedication to bettering on-campus life for LBJ students. Bojo was nominated not only by fellow students, but also by faculty and staff. All commented on her involvement with the School and her demonstration of Johnson's ideals upon founding the LBJ School in the 1970s.
Bojo was presented with a check for $500 and her name will be engraved on a plaque that will be placed in the LBJ School at a later date.
By: Kelly Owens Pratlett