MPAff Grad Exemplifies LBJ 'Can Do' Spirit, Named An Oustanding Young Texas Ex by Alcalde Magazine
"If there are things Rob Hamilton can't do, there aren't many."-- The Alcalde, September 2010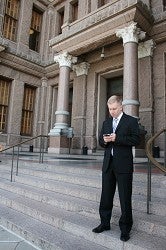 AUSTIN, Texas-- Sept. 1, 2010-- LBJ School Alum Robert Hamilton ('02) has been named Outstanding Young Texas Ex in honor of his accomplishments since graduating in 2002 with dual MPAff and J.D. degrees by
The Alcalde
, a publication of the Texas Exes Alumni Association.
Hamilton's accomplishments, along with three other University of Texas grads under the age of 40, were the topic of the feature article.
Hamilton, who accepted a position as general counsel for Apartment Realty Advisors in August, hasn't left much unconquered in his 35 years. According to the Alcalde, he has not only volunteered with Mother Teresa and cofounded a service organization, but also served as an attorney for the U.S. Army in Iraq, co-founded a service-exchange program in Honduras, helped with rescue missions in New Orleans after Hurricane Katrina, assisted UT law students with the National Security and Human Rights Clinic and won a Robert Bosch Fellowship in Germany. Hamilton also worked as a consultant at the Beijing Olympics last year.