LBJ Assistant Professor Josh Busby's New Book 'Moral Movements and Foreign Policy' Heralded as 'Groundbreaking'
Study tackles one of the great questions of world politics today - the role and significance of non-governmental actors
AUSTIN, Texas-- Aug. 31, 2010-- In his new book Moral Movements and Foreign Policy (Cambridge University Press, 2010), LBJ School Assistant Professor Josh Busby tackles several core questions about why some advocacy campaigns succeed when others fail and what conditions must be present to motivate states to accept commitments championed by principled advocacy movements.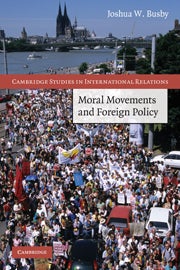 Busby sheds light on these issues through investigations of four key cases - developing country debt relief, climate change, AIDS, and the International Criminal Court in the "G-7" advanced industrialized countries, which include: Canada, France, Germany, Italy, Japan, the United Kingdom and the United States.
Busby draws on hundreds of interviews with policy practitioners and employs qualitative, comparative case study methods, including process-tracing and typologies, and develops a framing/gatekeepers argument, emphasizing the ways in which advocacy campaigns use rhetoric to tap into the main cultural currents in the countries where they operate. Busby argues that when values and costs pull in opposing directions, values will win if domestic gatekeepers believe that the values at stake are sufficiently important enough to block policy change.
Robert O. Keohane of the Woodrow Wilson School of Public and International Affairs at Princeton University calls the book a "nuanced and disciplined account."
Joshua Busby argues that states' responses to demands by moral advocacy groups depend not only on material costs but also on the fit between advocates' values and local cultural traditions; the role of policy gatekeepers; and how the 'messengers' behave," said Keohane.
G. John Ikenberry, Albert G. Milbank Professor of Politics and International Affairs at Princeton University, also calls Busby's study "groundbreaking."
"This book is a wonderful combination of sophisticated theory and empirical case study," said Ikenberry. "The role and significance of non-governmental actors is one of the great questions of world politics today. Busby's study will be an indispensible guide to scholarship in this area for years to come."
In a 2008 ten-country survey conducted by the College of William and Mary, Cambridge University Press, the publisher of Busby's book, was identified by international relations scholars as the top press in the field.
Moral Movements and Foreign Policy will be available in simultaneous hardback, paperback, and Kindle versions by the end of September.