LBJ Professors Travel the World, Teach Summer Policy Courses
Summer programs taught by LBJ professors offer students from around the globe a chance to study policy abroad
AUSTIN, Texas-- Aug. 13, 2010-- LBJ faculty members
Eugene Gholz
,
Joshua Busby
,
Gary Chapman
and
David Eaton
took advantage of the 2010 summer months to take students out of the classroom and into the field, giving students the opportunity to put their growing knowledge of public policy to work. Issues addressed during these programs abroad included global governance in southern African countries, civic participation in the digital transformation era, and project planning and implementation in Afghanistan.
In May 2010, Eugene Gholz, LBJ School Associate Professor, and Joshua Busby, LBJ School Assistant Professor, led a group of LBJ students on a trip to southern Africa, where students learned how to address a range of global-governance challenges. Although the region is home to rich cultural and environmental heritage, it faces a multitude of threats, including HIV/AIDS, environmental degradation, weak national identities and liberation movement transitions to stable, successful governance. Students learned about these challenges first-hand through daily three-hour lectures, excursions to townships, NGO and government offices, and a few museums and cultural centers.
"It is important for students to see problems first-hand, particularly when they are studying global policy," Busby said. "The course in Cape Town is a great example. We had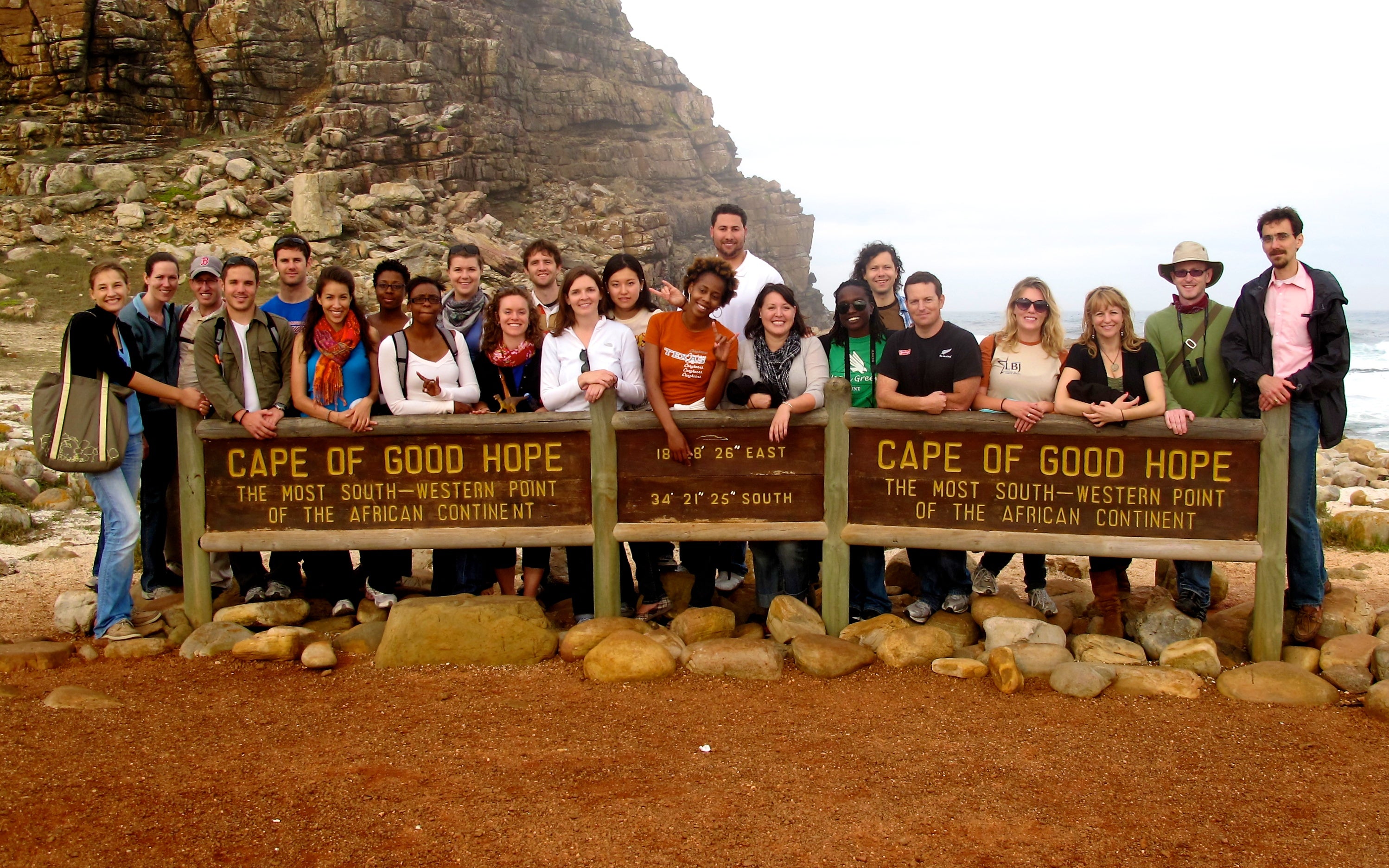 several amazing guest speakers and site visits, including visits to Robben Island, where Nelson Mandela was imprisoned, and the South African parliament. Students spoke with officials from the South African government, including health and finance ministry officials, as well as former members of the Truth and Reconciliation Commission and the Human Rights Commission. They also met with NGO leaders and academics working on the AIDS crisis, conservation, education and other issues."
In addition to first-hand experience observing governance challenges, the course also provided students the opportunity to absorb local culture.
"Students also took time to enjoy Cape Town's cultural offerings, including the Cape of Good Hope, Table Mountain, local museums, sporting events and theater," Busby said. "I'm sure all had profound personal takeaways. One student told me the most memorable part of the trip was being able to experience the sense of history happening right in front of her. Sixteen years after the end of apartheid, she could feel people's eagerness to continue to move forward."
Students also met with southern African climate change experts. Busby, who leads the Climate Change and African Political Stability (CCAPS) research program for the Robert S. Strauss Center for International Security and Law, said the climate change discussions fostered future research and travel prospects for the LBJ School. Busby recently spoke to Foreign Affairs Magazine and offered more insight into students' involvement in the CCAPS project, which involves creating detailed maps determining specific areas in Africa most vulnerable to the effects of climate change. The piece is titled "
LBJ Students Map Africa's Vulnerability to Climate Change and Study South African Governance Challenges in Cape Town.
"
"The University of Cape Town and the city have a high concentration of professionals working on the problem of climate change and its effects on southern Africa," Busby said. "We were able to take advantage of being in Cape Town by meeting with faculty at the university who work on this issue as well as presenting our work to the broader climate change community in Cape Town. That combination provided us with a good set of contacts and relationships for future visits."
In July 2010, Professor Chapman organized and led a week-long conference in Porto, Portugal, where students and experts from around the world attended the second annual International School on Digital Transformation (ISDT 2010).
"We had speakers from South Africa, India, Italy, Taiwan, the U.K., Canada, Brazil, the U.S. and of course Portugal itself," Chapman said. "We had some of the leading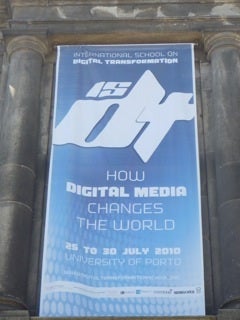 scholars and practitioners in new digital tools there, covering issues such as civic participation, transparency, community informatics, intellectual property, grassroots activism and the fusion of public life and the arts."
Additional topics covered at ISDT 2010 included democratic transformations of society through digital media; innovations in transparency and political participation using new online tools; grassroots civic activities using digital technologies; prospects for digital communication in developing regions; economically and politically galvanizing historically underserved areas and developing "open cities" and municipal participation through technological interventions.
Attendees of the conference used Twitter as their preferred method to communicate learnings and topics discussed at the conference. Tweets about ISDT 2010 can be searched under the hashtag #isdt10.
In July 2010, Professor Eaton traveled to Dubai for the 2010 UNITAR Hiroshima Fellowship for Afghanistan, where he met and mentored six program participants who all hold senior-level positions in the Afghan government, universities or the non-profit sector. The program seeks to develop Afghan leaders who know one another and can work effectively together.
"The civil service commission of Afghanistan selects young leaders each year, this year there are 54 participants, to have a year-long training program in leadership and management," Eaton said. "The Ph.D. faculty members who lead the training program are drawn from around the world. Each of the participants, or fellows, has an Afghan coach, 4 of whom are LBJ grads, as well as mentors. The intensive training program I taught and supervised was in Dubai. It's hosted by the United Nations Institute for Training and Research (UNITAR) with the civil service commission and the United States government."
UNITAR's main mandate is to provide training and capacity building for government officials, scholars and representatives of civil society from developing countries in the general areas of peace, security and economic and social development. The eight-month course focuses on organizational development and change, project planning and implementation, proposal writing, leadership, teambuilding, coaching and facilitation, human resource development and management and post-conflict reconstruction. UNITAR partnered with the University of Texas at Austin and others to make this program a reality.
Taught primarily online with regular meetings done via Skype or compressed video feed, the course also provides an opportunity for fellows to meet their mentors either in Dubai or Hiroshima during intensive, week-long sessions. For Eaton's fellows, empowerment was the focus of the program he taught and supervised while in Dubai.
"What we're trying to do is help people with the power to get things done, get them done faster and much better," Eaton said. "In addition to the year-long training program, these participants are also asked to accomplish something of significance. The group I'm working with is developing an effective system for answering complaints about government. Another group is trying to build a school for the blind in Afghanistan because there currently is no school for the visually impaired there."