LBJ School Dean Robert Hutchings Named to APSIA Executive Committee
AUSTIN, Texas-- July 20, 2010--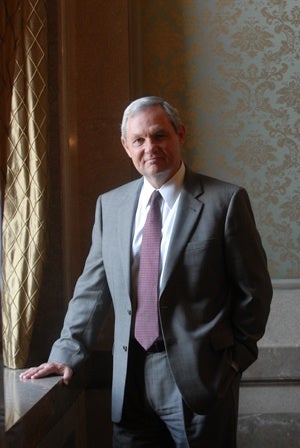 Robert Hutchings, dean of the Lyndon B. Johnson School of Public Affairs at The University of Texas at Austin, has been named to the Executive Committee for the Association of Professional Schools of International Affairs (APSIA) as an At-Large member.
The LBJ School of Public Affairs, which became an APSIA member in 2008, is one of 34 member schools in North America, Asia and Europe dedicated to the improvement of professional education in international affairs and the advancement of international understanding, prosperity, peace, and security.
APSIA members work to promote excellence in professional, international affairs education worldwide by sharing information and ideas among member schools and with other higher education institutions, the international affairs community, and the general public.
The six-person executive committee includes President J. Brian Atwood, Dean, Hubert H. Humphrey Institute of Public Affairs, University of Minnesota; Vice President John T.S. Keeler, Dean, Graduate School of Public and International Affairs, University of Pittsburgh; Secretary/Treasurer Susan M. Collins, Dean, Gerald R. Ford School of Public Policy, University of Michigan; and additional At-Large Members Kishore Mahbubani, Dean, Lee Kuan Yew School of Public Policy, National University of Singapore; and Francis Verillaud,
Vice President for International Affairs, Sciences Po.