LBJ School Senior Lecturer Ken Matwiczak Receives Prestigious ASPA Service Award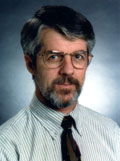 AUSTIN, Texas-- June 25, 2010-- Senior Lecturer Kenneth Matwiczak has been awarded the 2010 Donald C. Stone Service to the American Society for Public Administration (ASPA), an award that pays tribute to ASPA members who have contributed outstanding service to the Society.
Matwiczak was nominated by Howard R. Balanoff, a professor at the William P. Hobby Center for Public Service at Texas State University in San Marcos, Texas.
"I have know Ken for about 15 years, and I strongly believe that he has distinguished himself through his service to ASPA at the national, state and local level," said Balanoff in his nomination letter. "He has served with distinction as a member of ASPA's National Council, Co-Chair of ASPA's Professional Development Committee, Co-Chair of Texas ASPA/CPM Conference, and president, officer and board member of the Central Texas Chapter of ASPA."
According to Balanoff, Matwiczak has made the Central Texas (Cen-Tex) ASPA one of the most successful ASPA chapters. Additionally, in recognition of his service to the Cen-Tex Chapter, Matwiczak was also named the 2009 Cen-Tex Public Administration Educator of the Year.
Matwiczak's service to his country as a member of the Armed Forces should also be noted, said Balanoff.
"Before he arrived at the LBJ School, Ken taught at West Point for a period of about 8 years," said Balanoff. "Ken served for 22 years as an officer in the United States Army. After retiring from the Army as a Lt. Colonel in 1993, Ken received the Army's Legion of Merit, the second highest peace-time award that can be offered to any military person. The award was in recnognition of his outstanding service record."
Other awards and recognitions honoring Ken Matwiczak:
Two-time recipient of The University of Texas at Austin Alumni Association's Texas Exes Teaching Award
2007 recipient of The University of Texas at Austin Graduate Advisor of the Year award
The recipient of six LBJ School student-awarded faculty appreciation awards
Kenneth Matwiczak came to the LBJ School from the U.S. Military Academy at West Point, where he was an instructor and associate professor in the Department of Systems Engineering. He received his Ph.D. in Industrial Engineering from Texas A&M University in 1990. He also holds an M.B.A. from Long Island University, an M.S. from Purdue University, and a B.S. from the U.S. Military Academy at West Point.
Matwiczak retired from the U.S. Army as a Lieutenant Colonel in 1993. In the Army, he was Chief of Studies and Test Integration for a Joint Service Test Force that was charged with developing a methodology to evaluate Air Defense Artillery battle doctrine through computer simulation and live field exercises. Additionally, he supervised the Engineering Management majors program at West Point, which was selected as the best program of its kind in the nation in 1991.
Matwiczak teaches courses in applied statistics, program evaluation, quantitative decision methods, management science, and project management at the LBJ School. He also directed an LBJ School policy research project that developed a methodology for assessing the strengths and weaknesses of the Strategic Planning and Budget System as it is implemented in Texas state government and subsequently led several program evaluations for various state, local, and nonprofit organizations.