The Barbara Jordan Historical Essay Competition Partners with PAACC to Offer High School Students History and Perspective
AUSTIN, Texas-- April 27, 2010-- The Barbara Jordan Historical Essay Competition (BJHEC) partnered with LBJ School student organization Public Affairs Alliance for Communities of Color (PAACC) to offer high school students the opportunity to engage in a journey about real people who lived during historic times. The award presentation took place during the 24th Annual Heman Sweatt Symposium in Civil Rights on April 23.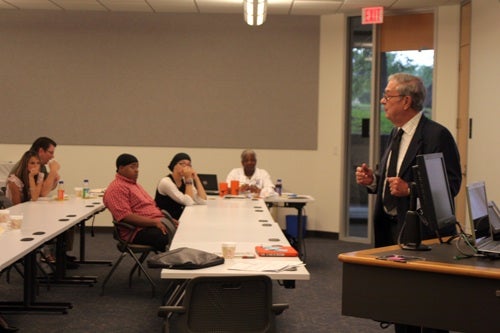 Johnie Jones, LBJ School student and PAACC co-chair, works with the Division of Diversity and Community Engagment, which co-sponsored the Symposium along with the LBJ School and many other schools and departments at the University of Texas at Austin.
"Students are encouraged to take advantage of the invaluable history around them by talking with grandparents, aunts and uncles, and as well as community, business and religious leaders about their neighborhoods and communities," said Jones. "After they finished their research and interviews, the students were invited to develop an essay on this year's topic 'The African American in Texas: Past and Present.'"
According to Jones, the partnership between BJHEC and PAACC is signifigant.
"In keeping with the spirit of Barbara Jordan, PAACC, a student-led organization at the LBJ School, strives to promote awareness and understanding of issues affecting underrepresented communities by initiating dialogue, programs, and networking within the greater Austin community."
Max Sherman, former dean of the LBJ School and editor of "Barbara Jordan: Speaking the Truth with Elegant Thunder," was the featured speaker at the award ceremony.
"Dean Sherman left the crowd of proud parents, family, and students speechless as he shared the story of Barbara Jordan's life and the impact she has made, not only in Texas but the nation," said Jones.
Barbara Jordan became the first African American female to serve in the Texas House of Representatives in 1966. In 1972, Jordan was elected to the United States House of Represenatives. In 1979, Jordan left politics to become an adjunct professor at the LBJ School.