LBJ School's 'Bleeding Hearts' Triumph Over Bush School's 'Bushwhackers' in 2010 'Dillo Cup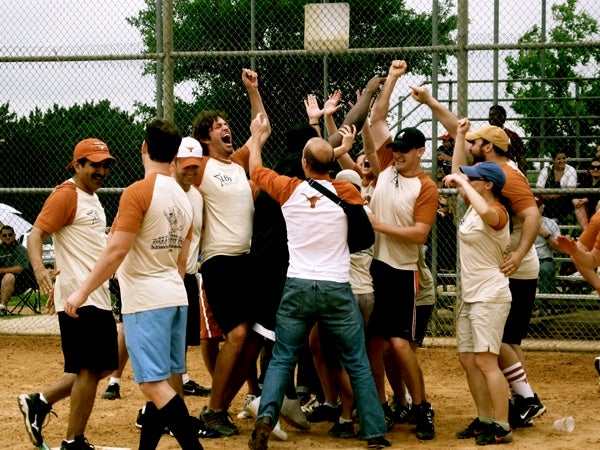 AUSTIN, Texas-- April 19, 2010-- The LBJ School of Public Affairs was once again victorious against the Bush School of Government and Public Service in their annual softball tournament dubbed the "Dillo Cup on Sunday, April 18. The LBJ School once again has the honor of keeping the armadillo trophy for another year.
The LBJ School "Bleeding Hearts" brought in a 13-12 victory against the Bush School "Bushwhackers," coming back from a 5 run deficit in the final inning. Mari Hernandez made the final run, helped home by a timely hit by Jonathan Wang.
"The Team would like to thank all of the fans in the LBJ Nation who came out to show their support," said William Carpluck, team captain. "Your energy and enthuisiasm kept the team in the game throughout and your signs and cheering definitely took the Bushwhackers by surprise. We definitely had home field and crowd advantage for this one."
The series score is 6-5 in favor of the Bush School with the LBJ School winning the last two tournaments. The 'Dillo Cup is a tradition between the LBJ School and Bush School to foster a sense of community and competition, which has been going strong since the establishment of the tournament in 2000.
The 'Dillo Cup will be on display in the Office of Student and Alumni Programs located in the first floor lobby of the LBJ School of Public Affairs.