Conference to Explore Effects of NAFTA 20 Years After Signing
Event Details
Thursday, February 6, 2014 - 5:30pm - Friday, February 7, 2014 - 5:30pm
The LBJ School of Public Affairs
2315 Red River St
Austin
,
TX
78712
This event is free and open to the public but registration is required.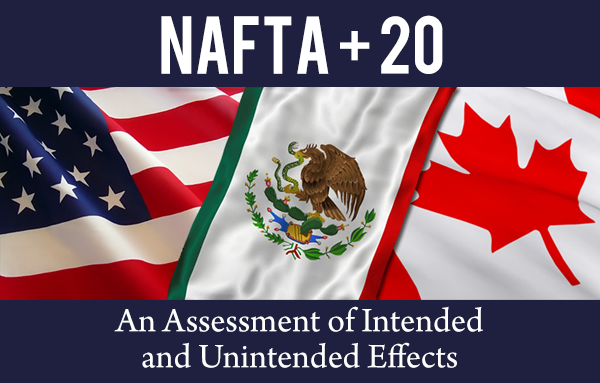 Twenty years after signing the North American Free Trade Agreement (NAFTA), the United States, Mexico and Canada have experienced a tripling in trade amidst criticism of inequality and accusations of labor exploitation. To explore the long-term implications, successes and failures of NAFTA, the LBJ School of Public Affairs will host a one-day conference on Feb. 7.
"NAFTA + 20: An Assessment of Intended and Unintended Effects" will bring together leading scholars and policymakers from Canada, Mexico and United States, some of whom were engaged in the original research and negotiations that led to the signing of NAFTA. Panel topics include:
Migration, jobs, healthcare, working conditions and worker rights
Patterns of inequality within and between the U.S., Mexico and Canada
Transportation, infrastructure, and environment
And life on the border.
The conference will open on the evening of Feb. 6 with a keynote address by former President of Mexico Ernesto Zedillo, whose six-year term in office (1994-2000) was central to Mexico's implementation of NAFTA.
"After 20 years, NAFTA has been deeply integrated into the economic organizations, the financial management, and the production systems of Mexico, Canada and the United States," said Peter Ward, LBJ School Associate Dean of Research and conference co-organizer. "The pact has created unprecedented free trade through North America but there have also been major drawbacks to the pact including issues of inequality and labor. Through this conference, we hope to better understand the implications of NAFTA and the broader global effects of the world's largest free trade agreement."
This event is free and open to the public but registration is required. The event will take place at the LBJ School of Public Affairs' Bass Lecture Hall located on The University of Texas at Austin campus.
For a full agenda or to register, visit: http://lbj.utexas.edu/profdev/candt/nafta
Media Contact: Kerri Battles, 512-232-4054, 512-507-4335, kerribattles@austin.utexas.edu
Conference Materials:

---
Opening Keynote Address by Former President of Mexico Ernesto Zedillo
---
Welcome by LBJ School Dean Robert Hutchings; Introductory Remarks by Chancellor Francisco G. Cigarroa, The University of Texas System
---
Migration, Jobs, Health Care & Working Conditions and Workers' Rights
Moderator: Ken Greene, University of Texas at Austin, Department of Government
Ernesto Cortes, Industrial Areas Foundation
Douglas Massey, Princeton University
Bryan Roberts, University of Texas at Austin, Department of Sociology
Mónica Verea, Universidad Nacional Autónoma de México - Download Verea's Presentation
---
Convergence and Divergence: Patterns of Inequality within and between Mexico, the US and Canada
Moderator: Peter Cleaves, Delphi Resources Group
Eugenia Correa, Universidad Nacional Autónoma de México - Download Correa's Presentation
Rafael Fernández de Castro, Instituto Tecnológico Autónomo de México - Download Castro's Presentation
James Galbraith, University of Texas at Austin, LBJ School of Public Affairs - Download Galbraith's Presentation
---
Transportation, Infrastructure & Environment
Moderator: Robert Wilson, University of Texas at Austin, LBJ School of Public Affairs
Leigh Boske, University of Texas at Austin, LBJ School of Public Affairs
David Eaton, University of Texas at Austin, LBJ School of Public Affairs
Gerónimo Gutiérrez, North American Development Bank
Judith Mariscal, Centro de Investigación y Docencia Económica - Download Mariscal's Presentation
---
Life on the Border
Moderator: Peter Ward, University of Texas at Austin, LBJ School of Public Affairs
Ricardo Ainslie, University of Texas at Austin, College of Education
Tonatiuh Guillén López, El Colegio de la Frontera Norte
Alejandro Ibarra Yúnez, Instituto Tecnológico y de Estudios Superiores de Monterrey - Download Ibarra Yúnez's Presentation
Danae Stratou, Visual Artist
David Warner, University of Texas at Austin, LBJ School of Public Affair