Secretary of Agriculture Tom Vilsack to Discuss 'Unlimited Opportunity for Homegrown Energy' on Feb. 13
Event Details
Wednesday, February 13, 2013 - 5:30pm
LBJ School of Public Affairs
2315 Red River St
Austin
,
TX
78712
This event is free and open to the public but registration is required. To register, please visit: http://tomvilsack.eventbrite.com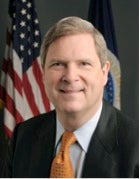 U.S. Secretary of Agriculture Tom Vilsack will speak at a public lecture at the LBJ School of Public Affairs on Feb. 13 at 5:30 PM. The title of his talk is "Unlimited Opportunity for Homegrown Energy." The Secretary will touch on the current state of the biofuel and renewable energy industries, the promise of advanced biofuels, ongoing research in renewable energy technology and the unlimited opportunity of the biobased economy for rural communities.
Vilsack is the nation's 30th secretary of agriculture and has led the U.S. Department of Agriculture (USDA) for four years where he has worked to support farmers, ranchers and growers, provided food assistance to millions of Americans, conserved natural resources and helped to provide a safe, sufficient and nutritious food supply for the American People.
The event will take place in the LBJ School First Floor Lobby located at 2315 Red River St. The event is free and open to the public but registration is required. Free parking will be available in Lot 39. (Note: Previous postings indicated free parking would be in Lot 38. Please note that parking is now available in Lot 39.)
To register for this event, visit: http://tomvilsack.eventbrite.com
More on Secretary Vilsack
As the chair of the first-ever White House Rural Council, Secretary Vilsack and the USDA are taking steps to strengthen services to rural businesses and entrepreneurs to create job opportunities.
Under Vilsack's leadership, the USDA has partnered with First Lady Michelle Obama on the Let's Move Initiative to improve the health and nutrition of America's children. He also helped pass the Healthy, Hunger Free Kids Act to combat child hunger and obesity. Vilsack led a comprehensive effort to improve the safety of the American food supply, implementing changes to food safety standards to prevent illnesses by reducing the prevalence of E. coli, salmonella and campylobacter in meat and poultry.
Prior to his appointment, Vilsack served two terms as the Governor of Iowa, in the Iowa State Senate and as the mayor of Mt. Pleasant, Iowa.