Nuclear Arms Control for the 21st Century
Event Details
Friday, March 8, 2013 - 2:00pm
LBJ School of Public Affairs, RM 3.384
2315 Red River St
Austin
,
TX
78712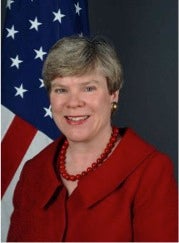 The Cold War ended over 20 years ago, and for the average American the threat of nuclear war seemed to drift away. When was the last time you even heard of someone doing a duck-and-cover drill? But there are still thousands of nuclear weapons around the globe, in addition to bomb-grade nuclear materials for many more, and terrorist groups and several states appear intent on acquiring nuclear-weapons capability. The threat is real and, in fact, may be increasing. With this in mind, the U.S. Government has reinvigorated efforts to secure and reduce stockpiles of weapons and vulnerable nuclear materials, and to halt the spread of nuclear weapons.
Acting Under Secretary of State Rose Gottemoeller, the government's chief arms control negotiator and Senior Advisor to the President and Secretary of State on arms control, nonproliferation and disarmament policy, will lead a roundtable discussion on nuclear policy for the 21st century and the tools that will be needed along the way. The United States is and has always been committed to innovation, and the arms control and nonproliferation arenas are no exception. Ms. Gottemoeller will highlight some of the creative thinking that has been taking place on ways to use technologies – including open source technologies – to help us tackle some of the problems we will face moving forward with the next steps in nuclear reductions and international security.
This event is co-sponsored by the LBJ School Global Policy Studies International Colloquium Speaker Series and the Cockrell School of Engineering. For more information, please contact Dr. Kate Weaver at ceweaver@austin.utexas.edu or Dr. Steve Biegalski at biegalski@mail.utexas.edu.
This event is free and open to the public. Snacks provided.
VIDEO: Acting Under Secretary Rose Gottemoeller Speaks at the LBJ School on Nuclear Arms Control for the 21st Century
VIDEO: Innovation in Arms Control Google Hang Out - March 4, 2013