First Latina Governor in US History and UT El Paso Graduate Susana Martinez to Speak at LBJ School
Event Details
Wednesday, October 9, 2013 - 5:30pm
LBJ School of Public Affairs - Bass Lecture Hall
2315 Red River St.
Austin
,
TX
78713
Susana Martinez, Governor of the State of New Mexico and first Latina Governor in U.S. history, will speak at the LBJ School on Wednesday, Oct. 9 at 5:30 PM.
This event is free and open to the public but registration is required. To register, visit: https://susanamartinez.eventbrite.com/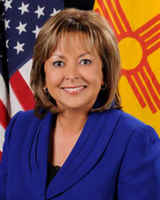 Martinez was elected Governor in 2010, pledging to cut wasteful spending, lower taxes to create more jobs, and end "pay-to-play" practices and other corruption in government and fight to reform education.
Prior to being elected Governor, Martinez was the District Attorney for the Third Judicial District for 14 years.
Time named her among the Top 100 Most Influential People in the World in 2013. In 2008, Heart Magazine named Martinez "Woman of the Year" for her dedication to children's advocacy and her efforts to keep children safe. She has also twice been named New Mexico's "Prosecutor of the Year." In 2011, Hispanic Business Magazine named Martinez "Woman of the Year" for her efforts to reduce the tax burden in New Mexico, get the state's fiscal house in order, and promote a friendlier business environment that will allow employers to create jobs and hire New Mexico workers.
More on Governor Susana Martinez:
Martinez comes from a hard-working, middle class family. Her father and mother started a security guard business with $400 in their pockets, building their business with Susana's mother doing paperwork in the family kitchen and Susana working as a security guard while attending college during the day.
Martinez was born and raised in the Rio Grande Valley and has made Las Cruces her home since the 1980s. She earned her bachelor's degree from the University of Texas at El Paso and later earned her law degree from the University of Oklahoma.