Speaker Newt Gingrich Discusses 'Leadership Challenges Beyond the Election' at Oct. 25 Public Lecture in Austin
Related:
Gingrich says country more polarized, Perry not done - KVUE TV, Oct. 26, 2012
LBJ School of Public Affairs connects students with politics, Gingrich speaks about America's future - The Daily Texan, Oct. 26. 2012
Gingrich Calls President Obama's Recent Energy Policy Shift A Cynical Campaign Strategy - KEYE TV, Oct. 25, 2012
Gingrich predicts Obama will lose 'amazing number of states' - On the Record with Greta VanSusteren, Oct. 25, 2012
Gingrich: Obama 'peddling a set of falsehoods' on Benghazi - On the Record with Greta VanSusteren, Oct. 25, 2012
Event Details
Thursday, October 25, 2012 - 6:00pm
LBJ Library Atrium
2313 Red River Street
Austin
,
TX
78712
The Honorable Newt Gingrich, former Speaker of the U.S. House of Representatives, discussed "Leadership Challenges Beyond the Election" on Oct. 25 at a public lecture in Austin, Texas. Gingrich addressed the crisis in strategic thinking for national security, American exceptionalism, the challenge of economic growth in a world market, rethinking government in the information age and effective leadership in a complex constitutional system.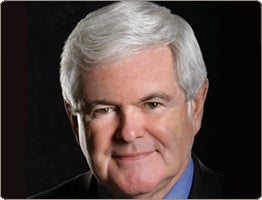 "The United States is at a crossroads far larger than partisan politics," said Speaker Gingrich. "As the world is changing, we have to think anew in order to find solutions to new problems and new responsibilities. As Abraham Lincoln reminded us in his 1862 address to Congress 'As our case is new, so we must think anew, and act new.'"
The lecture was held on Oct. 25 in the LBJ Library Atrium and was hosted by the LBJ School of Public Affairs, The University of Texas at Austin and the Lyndon Baines Johnson Library and Museum.
Speaker Gingrich was first elected to Congress in 1978 where he served the Sixth District of Georgia for twenty years. In 1995, he was elected Speaker of the U.S. House of Representatives where he served until 1999.
Recognized internationally as an expert on world history, military issues, and international affairs, Speaker Gingrich is the author of 23 books including 13 New York Times best sellers. In addition to non-fiction books, including his latest A Nation Like No Other, Speaker Gingrich also writes historical novels, which include Gettysburg, Grant Comes East and Never Call Retreat: Lee and Grant the Final Victory. His newest novel, Victory at Yorktown, co-authored by William R. Forstchen, will be available on Nov. 13. These novels are active historical studies in the lessons of warfare based on fictional accounts of historical wartime battles and their aftermaths.
The Washington Times has called Speaker Gingrich "the indispensable leader" and Time magazine named him Man of the Year in 1995, saying, "Leaders make things possible. Exceptional leaders make them inevitable. Newt Gingrich belongs in the category of exceptional."
For general information, call 512-471-3200
For press inquiries, please contact: Susan Binford, 512-415-4820, susan.binford@austin.utexas.edu, or Kerri Battles, 512-507-4335, kerribattles@austin.utexas.edu