LBJ School Fall Leadership Lecture Series Presents Texas Senator Leticia Van de Putte
Event Details
Wednesday, October 13, 2010 - 5:30pm - 6:30pm
LBJ School of Public Affairs - Bass Lecture Hall
2315 Red River
Austin
,
TX
78713
AUSTIN, Texas-- Sept. 22, 2010-- The Lyndon B. Johnson School of Public Affairs will launch its 40th anniversary celebration "LBJ@40" with a new LBJ School Fall Leadership Lecture Series. The inaugural series will feature noted speakers from the University, the Austin community, and Central Texas who will offer their thoughts on leadership from the perspectives of politics, history, ethics, philanthropy, business, and athletics.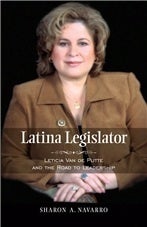 Texas Senator Leticia Van de Putte will be the first speaker and will discuss her experiences leading the "Texas 11," which included Democratic state senators who traveled to New Mexico in 2003 as part of a protest against a Republican redistricting plan, depriving the State Senate of a quorum and temporarily freezing legislative action. Van de Putte's story has been recounted in "Latina Legislator: Leticia Van de Putte and the Road to Leadership," by Sharon A. Navarro.
Leticia Van de Putte, a pharmacist for more than 30 years who represents a large portion of San Antonio and Bexar County, will be the first speaker in the series on October 13th. A former five-term state representative, she is now serving her sixth term as a Texas State Senator for District 26. She has served as the Chair of the Texas Senate Democratic Caucus since 2003. Senator Van de Putte was nominated as Co-Chair of the 2008 Democratic National Convention and she has been actively involved in the National Conference of State Legislatures, serving as President from 2006 to 2007.
The fall of 2010 marks 40 years since the LBJ School opened its doors to 18 students and five faculty members. "LBJ@40" will serve as an overarching theme to provide focus on a variety of initiatives designed to communicate the breadth and quality of the School's academic programs and innovative teaching practices, while demonstrating its role as a leading source of research and analysis on the most challenging and relevant issues of the day.
The event is free and open to the public. All events will take place in the Bass Lecture Hall, located on the basement level of the LBJ School of Public Affairs, Sid Richardson Hall Unit III, 2315 Red River Street, Austin, Texas, 78713, on the University of Texas at Austin campus.
For more information on the LBJ School Fall Leadership Lecture series, click here
On Leadership: A Q&A with Texas Senator Leticia Van de Putte...