Dean Robert Hutchings Opens LBJ School Alumni Association's Summer Speaker Series June 8
Event Details
Tuesday, June 8, 2010 - 6:15pm - 7:30pm
The Archer Center
1901 Pennsylvania Avenue, NW, Suite 700
Washington, D.C.
20006
AUSTIN, Texas-- May 28, 2010-- Robert Hutchings, dean of the LBJ School, opened the 2010 LBJ School Summer Speaker Series June 8 in Washington D.C, sponsored by the Washington Area LBJ School Alumni Chapter (WALSAC) and The Archer Center.
Speaking before a group of nearly 60 alumni gathered, Hutchings stressed his commitment to alumni and specifically addressed the D.C. chapter's unique link to the School.
"When I assumed my position as LBJ School dean in March, I said that one of my top priorities was to build a more active, engaged alumni network, for the benefit of current students, faculty, and of course, our larger alumni community," said Hutchings. "I was delighted to be invited by the D.C. alumni group to be their first guest for their annual summer speaker's program."
"We discussed various ways of making the LBJ School experience an ongoing part of the lives of our alumni. Not all will choose to be so actively engaged, of course, but we want to mark participation as easy and worthwhile as possible. The large and growing Washington-based alumni community will be particularly important to our goal of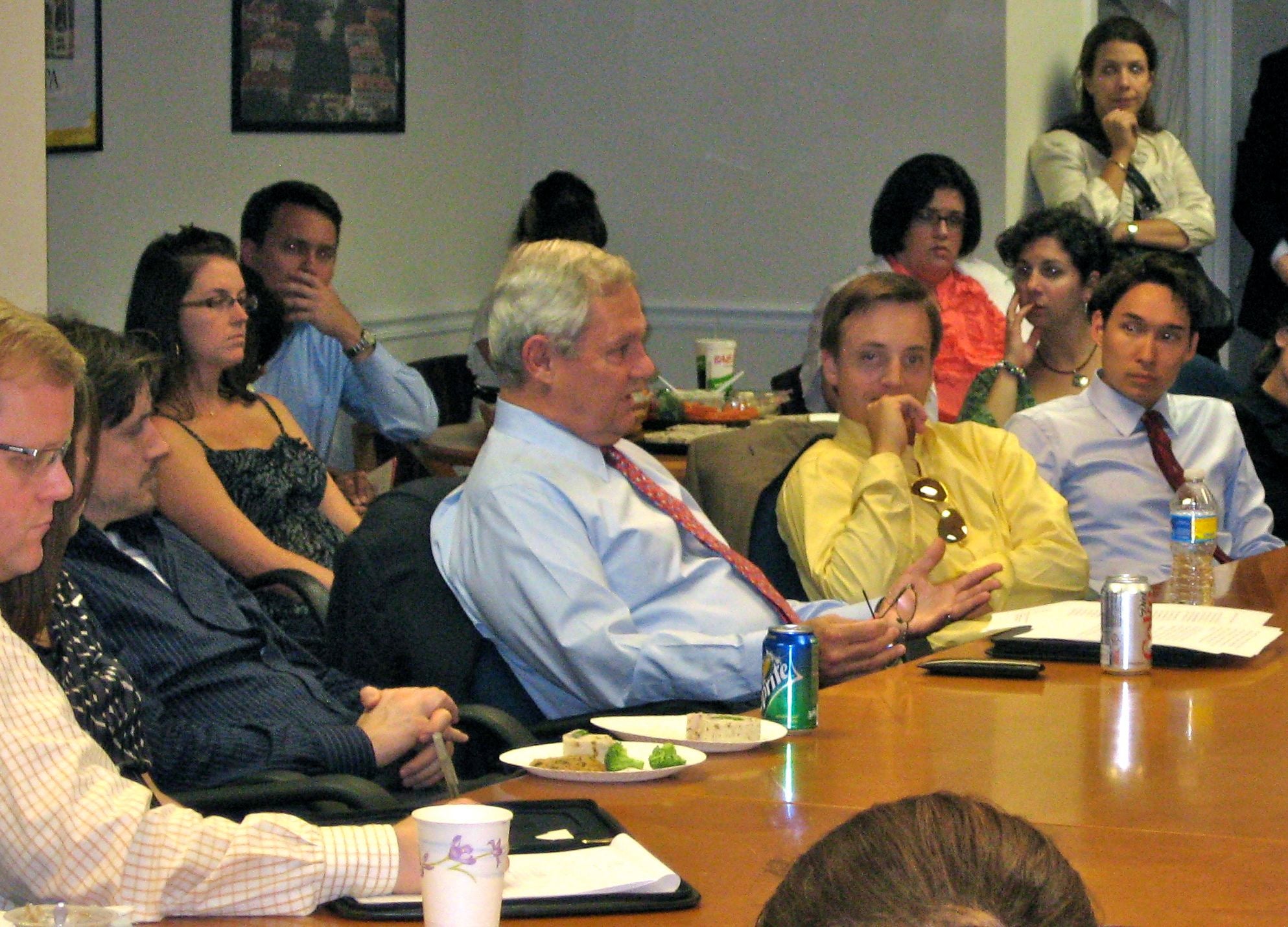 developing a much stronger D.C. presence for the LBJ School.
"I also took the opportunity to discuss some of the plans for the School's 40th anniversary celebration beginning this Fall, emphasizing that we intend to incorporate alumni events in multiple cities as well as engage alumni themselves in various activities, with D.C. being one of our top priorities."

Hutchings who met with the group for a few hours, invited all to visit their alma mater's newly renovated $19 million facility on the UT campus in Austin, and promised to make future reunions memorable, both intellectually and socially.

The Summer Speaker Series features five weeks of prominent invited guest speakers who will engage students and alumni from the LBJ School of Public Affairs, as well as University of Texas at Austin students, alumni, and friends on issues of domestic and international policy.
Before joining the LBJ School in March 2010, Hutchings was Diplomat in Residence in the Woodrow Wilson School of Public and International Affairs at Princeton University. He was also faculty chair of the Master in Public Policy program and served for five years as assistant dean of the school.
During a public service leave from Princeton University in 2003-05, he was Chairman of the U.S. National Intelligence Council in Washington. His combined academic and diplomatic career has included service as Fellow and Director of International Studies at the Woodrow Wilson International Center for Scholars, Director for European Affairs with the National Security Council, and Special Adviser to the Secretary of State, with the rank of ambassador.
Ambassador Hutchings also served as deputy director of Radio Free Europe and on the faculty of the University of Virginia, and has held adjunct appointments at the Johns Hopkins University School of Advanced International Studies and Georgetown University's School of Foreign Service. He is author of At the End of the American Century and of American Diplomacy and the End of the Cold War, which was published in German as als der Kalte Krieg zu Ende war, along with many articles and book chapters on European and transatlantic affairs.
While chairing the National IntelligenceCouncil, he directed the year-long "NIC 2020" project resulting in a report called Mapping the Global Future, examining the forces that will shape world affairs out to the year 2020. His current research springs from that project and aims at developing a global policy agenda, based on a series of structured strategic dialogues over the past two years with leaders in China, Russia, India, Brazil, South Africa, and a dozen other key countries around the world.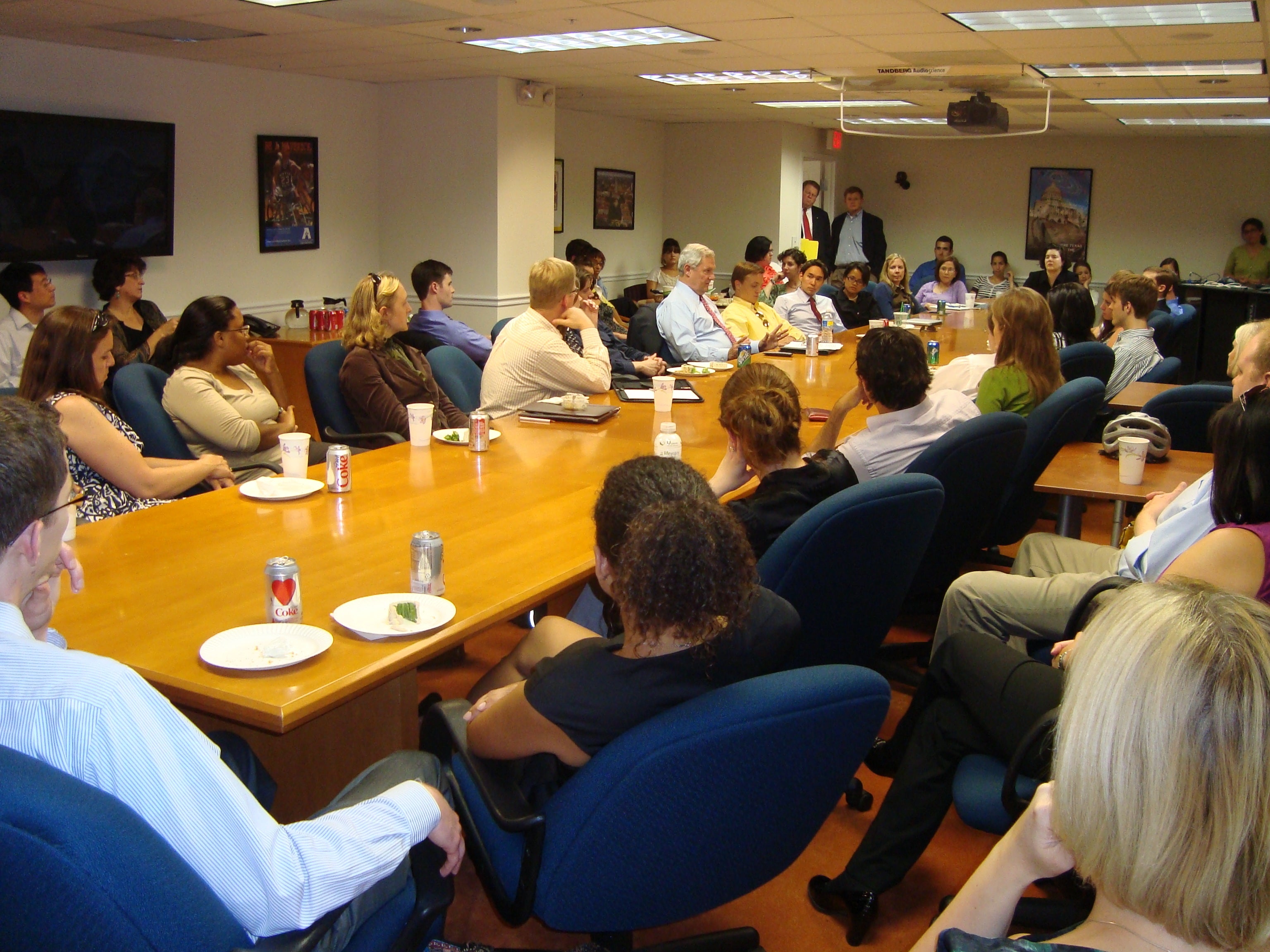 Hutchings is a director of the Atlantic Council of the United States and of the Foundation for a Civil Society and is a member of the Council on Foreign Relations and the British-North American Committee. A recipient of the National Intelligence Medal and the U.S. State Department Superior Honor Award, he was also awarded the Order of Merit (with Commander's Cross) of the Republic of Poland for his contributions to Polish freedom. He is a graduate of the United States Naval Academy and received his Ph.D. from the University of Virginia.
For more information, contact Fernando Rodriguez at fernando.rodriguez2@gmail.com "> fernando.rodriguez2@gmail.com .
For more information visit: http://www.archercenter.org/programs/summer_speaker.html.