Paul Pope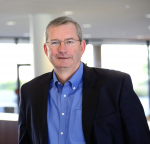 Visiting Professor
Contact Info
512 232 9553
SRH 3.253
jpaulpope@utexas.edu
Office Hours
1:30-3:30 on Wednesdays
James "Paul" Pope is the Central Intelligence Agency's Officer-in-Residence at the LBJ School of Public Affairs at the University of Texas-Austin.
Mr. Pope is a Senior Executive in the National Clandestine Service (NCS). He recently served on the NCS's leadership team as Chief of the Tradecraft and Training Division, responsible for implementing and managing service-wide training, as well as for capturing "lessons learned," fostering tradecraft innovation and adapting the operating doctrine of the NCS to new technical challenges and mission imperatives. Under DNI Clapper, he established the office of the Assistant Director of National Intelligence for Partner Engagement and served as the Acting ADNI for an extended period, after serving as Assistant Deputy Director of National Intelligence. Though much of the specifics of other recent assignments remain classified, Mr. Pope has had multiple foreign tours, managed large budgets and multidisciplinary and interagency work forces, and served as a Chief of Station. He has repeatedly served in senior coordinating roles with the National Security Council staff, in interagency fora, with senior foreign allies, and with international organizations. He was the Head of Delegation to NATO's Civilian Intelligence Committee, and for two years represented the DCIA and DNI to the Commander, US Pacific Command and his service and special operations component commands. Prior to joining the NCS, he served as Deputy National Intelligence Officer for the Near East and South Asia and led analytic units in CIA's Intelligence Directorate. Mr. Pope was awarded the National Intelligence Superior Service Medal, the National Intelligence Reform Medal, the NCS's Donovan Award for Excellence, and multiple exceptional performance awards.
Prior to joining the CIA, Mr. Pope was a US Army officer, serving on the Army staff and twice commanding combat arms units at the company level, including the only active firebase in the Army on the Korean DMZ. Mr. Pope received his M.A. With Distinction from the Naval Postgraduate School and his BS from the United States Military Academy at West Point. He is a Distinguished Graduate of Command and General Staff College and a graduate of the National War College's CAPSTONE course. He retired from the US Army reserves as a Lieutenant Colonel.
Education
Current Positions
Previous Positions