Montgomery Meigs, General, U.S. Army (Ret.)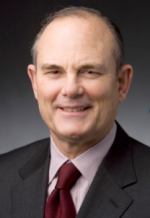 Senior Lecturer
Contact Info
(315) 256-8649
SRH 3.244
meigsmcjr67@utexas.edu
General Meigs was President and CEO of Business Executives for National Security (BENS) from January 2010 to July 2013. He brought to BENS his deep experience in strategic policy, training, leader development, and technological innovation.
Previous to BENS, he was a Visiting Professor at Georgetown University's Edmund A. Walsh School of Foreign Service. He taught courses on defense challenges in the 21st century and on American strategic practice, and conducted research on decision making in national security and on the process of disruptive technological innovation in defense affairs. From 2006-2008, General Meigs directed the Joint Improvised Explosive Device Defeat Organization (JIEDDO) in the Office of the Secretary of Defense. JIEDDO assisted combat units in Iraq and Afghanistan in countering Improvised Explosive Devices (IED's). During General Meigs' tenure the casualty rate for each IED explosion fell by a factor of six.
During a 35-year career in the U.S. Army, General Meigs served as Commander, U.S. Army Europe (1998-2002). For the first year of that assignment, he also served as Commander of SFOR, NATO's peacekeeping force in Bosnia. During this year, U.S. Army Europe and MITRE developed Blue Force Tracker. In addition, he commanded the U.S. Army Combined Arms Center and was Commandant of the Army's Staff College (1997-1998). During his tour he revised the Staff College's leadership curriculum and oversaw the writing of the Army's leadership manual. He also led the 1st Infantry Division in its deployment enforcing the Dayton Treaty in Bosnia (1996-1997). He commanded the Iron Brigade of the 1st Armored Division in Operation Desert Storm and at Medina Ridge.
Following his retirement in 2003, General Meigs taught at the Lyndon B. Johnson School of Public Affairs, University of Texas at Austin, as the Tom Slick Visiting Professor of World Peace. He was later the Louis A. Battle Chair of Business and Government Policy at the Maxwell School of Citizenship and Public Affairs at Syracuse University.
He is the author of Slide Rules and Submarines: American Scientists and Subsurface Warfare in World War II (National Defense University Press, 2002). He has also written articles and editorials on military operations and strategy, including "Unorthodox Thoughts about Asymmetric Warfare," Parameters, Vol. 33, no.2 (Spring 2003). General Meigs has lectured at a number of academic institutions, including the Royal Uniformed Services Institute, the Russian Army's Combined Arms Academy, and the Belfer Center for Science and International Affairs at Harvard University's Kennedy School of Government. He is a member of the Council on Foreign Relations, the U.S. Department of State International Security Advisory Board, the Southern Methodist University Tower Center Advisory Board, the International Institute for Counter-Terrorism Advisory Board, and is a member of the Board of Trustees of the MITRE Corporation and the Board of Directors of International Executive Service Corps (IESC).
General Meigs' decorations include the Department of Defense's Medal for Distinguished Public Service, the Bronze Star with "V" Device, and the Purple Heart. He received a bachelor's degree from the U.S. Military Academy and a master's degree and a doctorate in history from the University of Wisconsin-Madison.
Education
Current Positions
Previous Positions