Highlight on Alumni
Legacy of Giving Back: Class of '82 Comes Together to Create Fellowship Endowment
The Class of 1982 has always been tight-knit. Alumni have been gathering for reunions every five years, celebrating life events together over barbecue and beer. The class cookbook, Getting A Piece of the Pie, gets dusted off periodically for a good guffaw, and these friends catch up on career and family news with one another.
During their 30-year reunion at the School in October 2012, the class visited the newly remodeled School and jokingly wondered how they might get a plaque on the new donor wall. They discovered that current students were not being awarded the same level of financial support they had received when they were LBJ School students. The joke turned serious and they decided they needed to do something to help.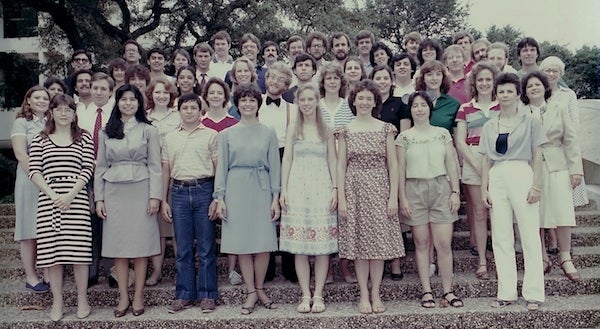 In just under five months, the members of the Class of '82 were able to mobilize and challenge their classmates. Douglas Brookman, Blaine Bull, Eric Malès, Karen Neuwald, Amy Praskac, Michael Reyna and Susan Szaniszlo stepped forward to shepherd the class through the process of developing an endowment. Their goal was to raise $150,000 so that they could award a one-year tuition fellowship and internship stipend each year to a deserving LBJ School student. The timing was critical as the School is providing a short-term match to endowments to kick off its LBJ School Fundraising Initiative. Understanding that not every graduate of the Class of '82 was in the position to donate a large amount, they decided to encourage their classmates to choose a meaningful contribution over a five-year period. This allowed members of the class to pledge at a level they were comfortable with and maximize all of the donations together into an achievable end goal.
The Class of 1982 exceeded its goal. As of Sept. 10, 65 percent of the class has contributed to create a $180,000 endowment.
"Let me tell you a story about why this fellowship matters," said classmate Blaine Bull, managing partner of Austin-based Vianovo. "During a client meeting last spring, I was introduced to a very impressive young woman who more than held her own in a fairly contentious meeting in a room full of egos. While visiting I discovered she had recently graduated from the LBJ School. She told me that she had been lucky enough to receive a full scholarship. She went on to share that the scholarship offer was the deciding factor in her decision to attend the LBJ School and what a life-changing experience she had while at the School."
Taking inspiration from a past when the LBJ School was able to supply most students with generous levels of fellowship support, the Class of 1982 is keeping its eye on the future, working to ensure future generations don't miss out on the benefits of graduating with little or no debt. "I feel like we're huge beneficiaries of all that LBJ offered us — the learning experience, the congeniality and friends, the financial support, the boost that our careers got right at the outset," said Brookman, now president of Public Solutions in Washington, D.C.

"Public policy is a fun, dynamic, interesting career and a noble pursuit," said classmate Karen Neuwald. "The challenge for future classes is how we can overcome the current cynical attitude toward public service. Being able to offer scholarships at a high level will recruit better students and show them that they have a choice in their degree. If we can offer better financial support to students, we can continue to enhance the stature of this degree."

"For those of us who have devoted our lives to working in the public sector, giving back is the theme that permeated our lives," said Brookman. "It was an easy transition to make a financial contribution to help some other students to get started in their careers."
For a class that benefited from the tutelage of public policy greats such as U.S. Representative Barbara Jordan and Secretary of Labor Ray Marshall, giving back on such a scale is a fitting new chapter in their story: a story of long-standing friendships punctuated with reunions every five years, annual hiking trips and a special connectivity that serves as a reminder of why they came to the LBJ School in the first place — to change the world for the public good, now one new student at a time.
---
Class of 1982 Photo
Back Row (from left to right): Mike Reyna, Marc Carlisle, Pat (Gough) Cuthbertson, John Schuhart, John Opperman, Rick Hall, Blaine Bull, Eric Malès, Alan Wright

4th Row: Susan Szaniszlo, John Castañeda, Ken Hodson, Doug Brookman, Jim Reed, Peter Nyren, Joan Veillette, Moira (McNamara) Schoen, Jimmy Hall, Rob Rodgers

3rd Row: Jill (McAlister) Navarrete, Carlos Barrera, Mira Mihajlovich, Jo Carcedo, Laurie Born, Julio Massad, Amy Praskac, Jorge Rodriguez, Chris Voss, Andrew Feldman, Pauline Edwards-Delaney

2nd Row: Susan Stephens, Art Ziev, Dorothy (Allen) Kellogg, Patrice (Beauchemin) Kapur, Cliff Staton, Annmarie Jensen, Laurie (Lucksinger) Parkhill, Barbara (Williams) Malès, Mary (Whiting) Puckett, Maria Ferrer-Miralles

1st Row: Lise Glancy, Tess Nira, Sam Gorena, Dora McDonald, Phyllis (Weaver) Conrad, Claire Oxley, Karen Neuwald, Sondra (Turner) Biller