GPAC Update
Will Payne (MPAff '14) President, Graduate Public Affairs Council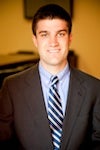 Things are in full swing for us here at the LBJ School as we kick off the fall semester. We have begun our election and appointment process and are looking forward to an enthusiastic new slate of GPAC members ready to get to work.
GPAC has a number of key initiatives for the coming year. First, we have begun discussing ways to continually ensure a diverse student body and faculty at the LBJ School that reflects our city, state, and nation. To accomplish this, we believe that GPAC has a role to play in assisting with outreach to the community, both on campus, around Austin, and beyond. Additionally, GPAC will work to offer creative and substantive professional development programming and valuable career resources for our students and alumni. Finally, we will continue to ensure our priorities as a graduate program through the various student governmental bodies elsewhere on campus.
We are looking forward to the coming year and, as always, welcome alumni input and feedback on our work. Feel free to contact us at gpaclbj@gmail.com with any ideas you may have to help us meet our goals.