Fall 2011 Issue

U.S. Department of Agriculture Cultivates a Prime Work Environment for LBJ Alumni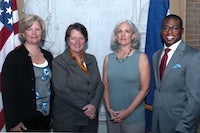 Deputy Secretary Kathleen Merrigan (MPAff '87) provided an inspiring commencement speech in May. One of the graduates in the audience that day, Johnie Jones (MPAff '11) became a special assistant to the deputy secretary, joining a growing cadre of LBJ School alumni at the U.S. Department of Agriculture. Alumni include Chief of Staff to the Deputy Secretary Suzanne (Smith) Palmieri (MPAff '87), Deputy Under Secretary, Natural Resources and Environment Ann Mills (MPAff '88), and Karen Safer (MPAff '87), who joined the department on August 29 in the Rural Housing Agency.

Host a Policy Dinner
The GPAC Outreach and Professional Development committee is setting up policy meals for the fall and spring. Ninety students have signed up to participate, so alumni volunteers are needed!

Hosting current students is a wonderful opportunity for busy public affairs professionals to stay connected to the School and current students, as the time commitment is slight. Choose a fall or spring preference, host at home or at a restaurant, co-host with a friend, and tell today's students about your piece of the policy pie.

Please visit this link to indicate your interest in participating in the Alumni-Student Policy Dinner program.

Alumni Events

Washington, D.C. Annual Alumni Reception
Dean and Mrs. Robert Hutchings cordially invite alumni to attend the annual Washington, D.C. reception.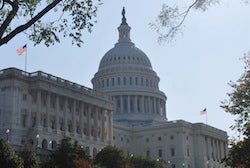 Wednesday, September 28, 2011
6 to 8 p.m.
CU House
403 C Street, NE
Washington, DC 20002

Learn about the latest advances at the LBJ School in both Austin and the Washington Campus.
Meet the newest graduates and catch up with old friends
Enjoy the rooftop view of Washington from the historic CU House on Stanton Park
Dean Hutchings will make brief remarks at 6:30 p.m.
Drinks and appetizers will be available.

To support the cost of this event, a suggested registration fee of $15, payable in advance, or $20 at the reception, is requested. Due to a generous donation from Christopher Bjornson (MPAff '96), 2011 graduates may attend at no cost.

Kindly register here by Friday, September 23 to attend, and also receive a directory of the attendees.
A Houston Alumni Reception
Join Dean Hutchings and generous hosts Rachel (Speltz) Dunlap (MPAff '83) and James Dunlap, for a reception at River Oaks Country Club on November 3.
Watch for your invitation in the mail. For more information, please visit the event page.
Save the Dates
Get these important events on your calendar now and watch for further details in the upcoming issues of Cornerstone.
November 5
Alumni/Student Tailgate. The Austin Alumni Chapter and GPAC invite you to a special alumni-tailgating event. Show your Longhorn pride before the game against Texas Tech. Details will be available at the Austin Alumni Chapter Web site in the near future.
January 26
Speed-Networking for alumni and students. Help students and brush up on your own elevator speech! The Office of Career Services and GPAC's Outreach and Professional Development Committee will co-host a new event designed to simulate a professional networking environment.
February 21 to 25
Barbara Jordan Week will take place at the LBJ School.
April 20 and 21
Alumni Weekend at the School. The year 2012 marks the 40th anniversary of the first graduating class, and special reunions for those in the classes of 1977, 1982, 1987, 1992, 1997, 2002 and 2007. Start the planning now! The Class of 1992 agent is Steve Niemeyer.
Class agents should contact Michelle Potter-Bacon at (512) 232-6141 to get special activities into the schedule.