The Great Society Page (Alumni Notes)
Summer 2013

1970s
Meg Wilson (MPAff '76) teaches in the Executive Master of Science in Technology Commercialization (MSTC) program for the McCombs Business School at The University of Texas at Austin. She also is a lecturer for the MSTC program at IC2.

Jesus Garza (MPAff '77) was named chief executive of the Seton Healthcare Family in April. He had served as interim president and chief executive for the past 15 months. His new title becomes official on July 1, 2013.

Wayne Roberts (MPAff '77) was appointed interim executive director of the Cancer Prevention Research Institute of Texas.
1980s
Albert Jacquez (MPAff '82) is director of legislative, congressional and political affairs for the National Council of La Raza, the largest Latino civil rights and advocacy organization in the country.

Michael Reyna (MPAff '82) was elected to the board of directors of the Austin Project (TAP) in April. Walt and Elspeth Rostow founded TAP in 1991. It serves to develop urban strategies that promote equity for all in Austin. In particular, TAP strives to strengthen families, improve education and promote early literacy.

Jeff Hardee (MPAff '83) is executive director of government affairs, Asia Pacific for Dell. He is based in Singapore.

Theodore Melina Raab (MPAff '86) is the legislative director at the Texas Federation of Teachers in Austin.

Leszek Kasprowicz (MPAff '87) is an energy and regulatory consultant in Austin.

Kathleen Merrigan (MPAff '87) resigned as deputy secretary of the U.S. Department of Agriculture in March. "More than 100 food and farm leaders, CEOs, actors, chefs, pediatricians, authors, environmentalists and public interest groups" thanked her for her outstanding service in a public letter. Read more here.

Her departure was also featured in the "People" section of the March 23, 2013, issue of National Journal.

Anne Dunkelberg (MPAff '88) was published in the Austin American-Statesman on May 20, 2013. Read her editorial, ''A 'Texas Solution' for the Affordable Care Act." http://www.statesman.com/news/news/opinion/dunkelberg-a-texas-solution-f...

Leo Gomez (MPAff '89) was selected as Brooks Development Authority president and chief executive officer in April. The Brooks Development Authority is responsible for the management and redevelopment of Brooks City-Base in San Antonio. Prior to his new role, Gomez was the vice president of public and government affairs for Spurs Sports and Entertainment.
1990s
Paul Strasberg (MPAff '90) is a consultant with ADI Compliance Consulting, Inc., in Fairfax, Va.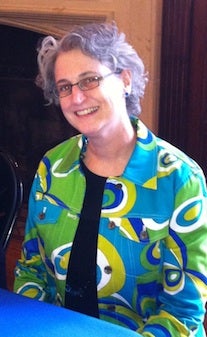 Carey Fitzmaurice
(MPAff '92) represented the LBJ School alumni as a panelist at the 2013 Association of Professional Schools of International Affairs (APSIA) annual conference. Carey spoke about careers at the U.S. Environmental Protection Agency, where she is a senior policy analyst.
Matthew Burns
(MPAff '93) is the director of global mobility at Lockheed Martin in Washington, D.C.
Brian Guthrie
(MPAff '93) was the subject of
Texas Government Insider
's April 26, 2013, 'Strategic Partnerships salutes Texas' Lone Stars' profile. He is the executive director of the Teacher Retirement System of Texas.
Athayde Motta
(MPAff '93) was chosen to serve as the first executive director of the Baobá Fund for Racial Equity in April 2011. The Baobá Fund is a new grant-making organization dedicated to the cause of promoting racial equity in Brazil through the strengthening of Afro-Brazilian CSOs and the advancing of social justice philanthropy in Brazil.
Irvin Ashford, Jr.
(MPAff '94) was selected as a recipient of the Leaders in Financial Literacy Individual Recognition Award. The award recognizes and rewards Texas bankers who have made a commitment to be a leader in the financial education of their communities. Irvin was recognized at the Texas Bankers Association's annual convention on May 2.
Irvin was named a Community Hero 2013 by d-mars.com
Top 50 Black Professionals & Entrepreneurs
.
Read more about Irvin's volunteer work
here
.
Irvin is senior vice president of corporate and public affairs and external affairs for Commerica Bank in Dallas.
Carmel Martin
(MPAff '94) returned to The Center for American Progress in March as the executive vice president for policy after four years in the Obama administration. Carmel served as the assistant secretary for planning, evaluation and policy development at the Department of Education. Carmel was featured in the "People" section of the March 23, 2013, issue of
National Journal
.
Niyanta Spelman
(MPAff '94) published an opinion piece titled "
The link between rainforests and Texas
" in the Austin American-Statesman on April 20.
Emily De Maria
(MPAFf '95) is the senior director of programs at the Capital Area Food Bank of Texas.
Gyl (Kovalik) Switzer
(MPAff '95) is public policy director for Mental Health America of Texas.
Mark Berte
(MPAff '96) is executive director for the Alabama Coastal Foundation in Mobile.
Daniel Sepulveda
(MPAff '96) has been nominated by President Barack Obama as a candidate for the position of Ambassador. He currently serves as deputy assistant secretary of state for international communications and information policy. Previously he was a senior advisor in the Office of U.S. Senator John Kerry.
Read more
.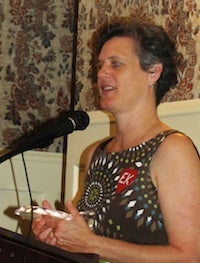 Sarah Echkardt (MPAff '98) announced her candidacy for Travis County judge. She has served as a Travis County commissioner since 2007.

Sarah also received the "Elected Public Official" award at the CenTex Chapter of the American Society for Public Administration's Recognition Banquet on May 22. She was nominated by and presented with the award by Reuben Leslie (MPAff '92).

Anjum Kurshid (MPAff '98, Ph.D. '07) is the director of the health services division at Louisiana Public Health Institute in New Orleans.

Robin Ryan (MPAff '98) is director of community justice programs for ARC Community Services, Inc., in Madison, Wis. ARC is a nonprofit organization that provides residential and substance abuse treatment services for women and children. She also is a member of the Madison Symphony Orchestra.

Dana Williams (MPAff '99) became assistant director of business and financial services in the Business Services Division at The University of Texas at Austin in February.
2000 to 2004
Max Castaneda (MPAff '01) is a water conservation policy analyst with St. Johns River Water Management District in Jacksonville, Fla.

Vidal Garza Cantú (Ph.D. '01) has served as director of the FEMSA Foundation in Montessey, Nuevo León, Mexico, since 2007. The FEMSA Foundation is a social investment instrument that supports education, science and technology in the areas of water conservation and sustainable use, as well as the improvement of the quality of life within communities.

Abby (Rozen) Greber (MPAff '01) is a promotions specialist for meetings and exhibits at the American Academy of Ophthalmology in San Francisco.

Damon D'Arienzo (MPAff '04) took a new position as director of consulting services for Denneen and Company in Boston.

Stuart Scruggs (MPAff '04) is the chief information office for Aunt Bertha, an online resource to assist consumers in finding food, health, housing and employment programs. He works with classmate Erin Gray (MPAff '04), who founded the service in 2010.
2005 to 2009
Vanessa Bouché (MPAff '04) is an assistant professor at Texas Christian University.

Stephen Palmer (MPAff '04) is the director of the Office of e-Health Coordination at the Texas Health and Human Services Commission.

Camellia Falcon (MPAff '05) is a strategic planner for the Seton Healthcare Family in Austin.

Rachel Krause (MPAff '05) is an assistant professor for the Master of Public Administration Program at The University of Texas at El Paso. She completed a doctorate in public affairs at Indiana University in 2011.

Jayne Meyer (MPAff '07) is a corporate advertising and brand advisor in the Department of Public and Government Affairs at ExxonMobil. She is based in Irving, Texas.

Eve Richter (MPAff '07) is a partner at Napkin Venture and a vice president of community and partnerships at Door64.

Katie Arnold (MPAff '08) is a community health assessment coordinator for the Williamson County & Cities Health District.
2010 to present
Lauren Dooley (MPAff '10) is the director of development for the Companion Animal Alliance of Baton Rouge.

Dianna Long (MGPS '10) is a program officer with the U.S. Agency for International Development's (USAID) Office of Foreign Disaster Assistance's Syria Response Management Team.

Jon Arnold (MGPS '11) is an Army Wounded Warrior Program (AW2) advocate for the Department of the Army. He is based at Fort Sam Houston, near San Antonio.

Lauren Burton (MPAff '11) is a talent search advisor for the University of North Texas.

Braden Civins (MGPS '11) is an assistant attorney general with the Office of the Attorney General of Texas.

Sarah Fiorenza (MGPS '11) has taken a new position with the Cynthia and George Mitchell Foundation in Austin. The Foundation funds environmental work in Texas, focusing primarily on clean energy and water.

Erica Greider (MPAff '11) published a book: Big, Hot, Cheap and Right: What America Can Learn from the Strange Genius of Texas. Watch her April 23rd interview on MSNBC here.

The book was also the focus of a Future Forum debate held at the LBJ Library on May 20.

Leah Bojo (MPAff '12) received the Best Capstone Research Project award at the CenTex Chapter of the American Society for Public Administration's Recognition Banquet on May 22.

Zachary Child (MGPS '12) works in research, content and development for Achieve, Inc., in Washington, D.C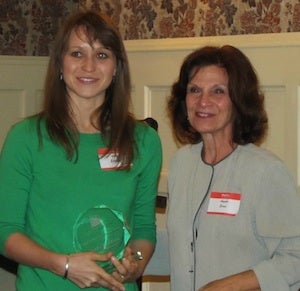 Ashley Erickson (MPAff '12) was recognized for the Best Research Paper for Course at the CenTex Chapter of the American Society for Public Administration's Recognition Banquet on May 22. LBJ School Clinical Professor in Public Policy Practice Angela Evans nominated Ashley and presented the award.

David Hardy (MPAff '11) is a lecturer in management and social policy at the University of Economics and University of Social Sciences and Humanities in Ho Chi Minh City, Vietnam.

Hoor Jangda (MGPS '11) is a consulting apprentice at M Powered Strategies in Washington, D.C.

Asha Dane'el (MPAff '12) works for the Austin Independent School District. She is an instructional support coordinator and chief academic officer.

Lauren Flemister (MPAff '12) is an urban designer at HOK, a private architecture firm in Houston. She performs urban planning and design functions.

Axel Gerdau (MPAff '12) is a video journalist with The New York Times.

Emily Hannan (MPAff '12) has been accepted into a doctoral program in sociology at the University of Oregon.

Todd Hendricks (MPAff '12) is a policy advisor in the Office of Texas State Senator Rodney Ellis (MPAff '77).

Johnie Jones, III (MPAff '12) was promoted to deputy chief of staff in rural development at the U.S. Department of Agriculture.

Parteesh Kaul (MGPS '12) is a program coordinator at Optimal Solutions & Technologies, Inc. (OST, Inc.), in Washington, D.C. OST, Inc. provides management consulting, information technology, and research development and engineering services.

Kellyann McClain (MPAff '12) took a position as a social science analyst in the Office of Health Policy in the Office of the Assistant Secretary of Planning and Evaluation at the U.S. Department of Health and Human Services.

Alexandra Stone (Ph.D. '12) is a postdoctoral research fellow at the IC2 Institute at The University of Texas at Austin.