GPAC Update
Meet the 2013 GPAC President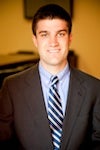 Will Payne (MPAff '14) President, Graduate Public Affairs Council

Will is a master of public affairs student at the LBJ School of Public Affairs with a concentration on urban policy and city management.
Will currently serves as the president of the Graduate Public Affairs Council (GPAC). As a member of the Outreach and Professional Development Committee in the past year, he organized a workshop on salary negotiation strategies for students and served as the GPAC organizer for prospective student outreach and spring open houses.
Originally from Cincinnati, Ohio, Will left the Midwest to attend the University of South Carolina (USC), where he received a B.A. in political science. While at USC, Will was actively engaged in the life of the university, serving in student government with a focus on student service and affordability issues.