Cornerstone Summer 2013
Welcome Our Newest Alumni: The Class of 2013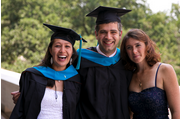 In a day of celebration, family and friends were invited to watch a new generation of game changers and policy makers receive their graduate degrees at the 2013 LBJ School Commencement ceremony. View this video for highlights from that day. More commencement videos and photos can be found on the Alumni Facebook Page.
---
Alumni Events
New York Alumni Happy Hour June 25
Alumni Board member Josh Levine (MPAff '12) will be on hand for a gathering of alumni and student interns.
The Stag's Head
252 E 51st Street
New York, NY 10022
6 to 8 p.m.
Get directions and R.S.V.P. here.
Austin Alumni Chapter Annual Meeting July 27
Join the Austin Alumni Chapter board at Opal Divine's in the private room for the 2013 annual meeting.
Opal Divines
Penn Field, 3601 South Congress Avenue
Austin
,
TX
78704
1 to 3 p.m.
See more details
here
.
Austin Alumni Chapter Welcome (Back) Happy Hour August 29
5:30 to 7 p.m.
Check
here
for details.
2013 Alumni Reunion Weekend Recap
March 22 and 23 brought alumni back to the LBJ School to celebrate Distinguished Public Service Award winner Bob Campbell (MPAff '73), the 25th reunion for the Class of 1988, and the first meeting of the new LBJ School Alumni Board. Alumni toured the newly remodeled LBJ Library exhibits and attended lifelong learning sessions.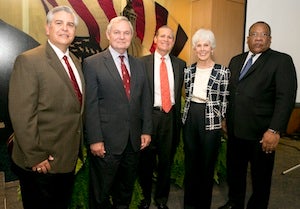 Enjoy photos and video from the various activities
here
. Be sure to save the date for 2014: April 11-12!
If your graduation year ends with 8 or 4, and your class wishes to plan to a special reunion celebration, please begin the process now! Contact the
Office of Alumni Affairs
today!
Details for all LBJ School alumni-related events are available on the
Events
page. Check often for the updates.
---
A Call To Service For LBJ Alumni
From The 2013 Summer Transition Committee
We would like to announce a volunteer opportunity for those of you who are still working or living in the Austin area. This summer, we are in charge of putting together a program that introduces incoming LBJ School students to life in Austin, and more importantly to the expectations for their upcoming time in and around the classroom. We are looking to host two luncheons for these incoming students at which LBJ School alumni will discuss their experiences in the public affairs or global policy studies degree programs, the important skills and lessons they learned that benefited their careers, and where life has taken them since graduation. Each luncheon will have a panel format; four alumni will sit on each panel, and in addition to giving their thoughts they will also take questions from incoming students. These events will occur during Camp LBJ, when new students have the chance to gain a full introduction to academic, social, and cultural life within the LBJ community.

These luncheons will be held on August 1 and 13, and will fill a two-hour window between 12:30 and 2:30 p.m. If you are interested in taking part, please contact David Cranston, and he will be happy to discuss this further. Your participation would be greatly appreciated. We consider it extremely valuable for our newest members of the LBJ community to interact with those whose LBJ degrees have led to successful careers and widespread impacts in the public, private and nonprofit sectors. In short, if you will be around Austin in August and can spare a couple hours to share your thoughts and advice with the incoming class, we would love to have you.

Remember, what starts here truly does change the world.

Warm regards,

The 2013 Summer Transition Committee
Ashley Haustein (MPAff '14)
David Cranston (MPAff '14)
Michael Gaudini (MPAff '14)
---
Great Society Page
First jobs. Promotions. Retirements. Engagements. Marriages. Passings. Life after the LBJ School.
Keep up with your fellow alumni in the Great Society Page.




---