Cornerstone Summer 2012
Alumni Reunion Weekend Recap

Alumni gathered April 20 and 21 to celebrate Distinguished Public Service Award recipient, John O'Brien (MPAff '81) and to celebrate the 40th anniversary of the School's first graduating class.



In addition to the popular alumni reception and the Distinguished Public Service Award ceremony, alumni returned to campus to partake in policy seminars with LBJ School faculty. Professor of Public Affairs and Professor of History and Mack Brown Distinguished Chair for Leadership in Global Affairs at the Robert S. Strauss Center for International Security and Law, Jeremi Suri, and Susi Sosa, executive director of the Dell Social Innovation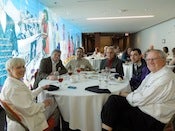 Challenge, associate director of the RGK Center for Philanthropy and Community Service and associate adjunct professor, provided Saturday morning lectures. These thought-provoking and informative talks were followed by a luncheon with Lady Bird Johnson Wildflower Center Executive Director Susan Rieff (MPAff '80), who provided the keynote address on the conservation legacy of Lady Bird Johnson.



View the unique commencement certificate and vintage photographs of the Class of 1972, as well as a special edition of the Baines Report featuring reflections written by Dean Robert Hutchings and 1972 graduates, Geraldine Conrad and Charles Cranford.



See a special video made by fellow alumni in honor of John O'Brien, as well as his acceptance speech at the alumni reception here.

Join us next year. Mark your calendars now for the 2013 Alumni Reunion Weekend on April 19 and 20, 2013! To start planning special activities for the classes of 1973, 1983, 1988, 1993, 2003 and 2008, please contact LBJ School Alumni Affairs.


Congratulations to the Class of 2012

In a day of celebration, family and friends were invited to watch a new generation of game changers and policymakers receive their graduate degrees at the 2012 LBJ School Commencement ceremony, held May 24. 

Full details about the ceremony, including photos, Dean Hutchings' address, and video of Former Colorado Governor Bill Owens (MPAff '76) convocation address, are available here.

LBJ School Online Alumni Directory Returns
Alongside our partners at The University of Texas at Austin, we have developed a customized online community for LBJ School alumni. The new LBJ School Online Alumni Directory launched on May 2 with an e-mail message to all alumni with current e-mail addresses.
Features
The online directory provides a secure place to update your contact and career information, to re-connect with friends, to seek out alumni with similar policy interests, to search for classmates by location, and so on
You have complete control over the information shared with fellow community members
You may select the types of communication you wish to receive from the School
You may choose to assist current LBJ School students in their career development by identifying yourself as a Career Contact
Additional features will roll out in the months to come – watch your inbox for details
We Are Here to Help
If you have questions about the new LBJ School Alumni Online Community, please contact us for assistance. We will also welcome your suggestions for improvement.

Activate your directory profile today and become a member of the LBJ School online alumni community!