The Great Society Page
1970s
William "Peck" Young (MPAff '73) was interviewed and featured prominently in a December 2, 2013, Texas Observer article, "What's Left?"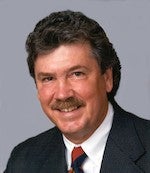 R
ick Gentry
(MPAff '76) executive director of the Insurance Council of Texas (ICT) since 1997, is retiring from the association at the end of March 2014.
Read the press release
.
Jordan (Jud) Richland (MPAff '79) is the chief executive officer of the American Association of Naturopathic Physicians in Washington, D.C.
1980s
Steven Aleman (MPAff 88) is a policy specialist with Disability Rights Texas.
1990s
Amy Hightower (MPAff '91) is editor of the American Federation of Teachers American Educator magazine.
Stacy Yates (MPAff '92) joined the distinguished ranks of the Texas Bar Foundation. She serves as director in the litigation section of Coats Rose, a business transaction and litigation law firm based in Houston.
Adrianna Cuéllar Rojas (MPAff '93) became president and chief executive officer of United Ways of Texas on January 1. She had previously served as senior program officer at The Meadows Foundation since 1997.
Melanie (Corrigan) Esten (MPAff '94) is the senior director of higher education and student aid policy for The College Board in Washington, D.C.
Dwight Burns (MPAff '95) is executive vice president at Estrada Hinojosa & Co., Inc. in Dallas.
Gina Montes (MPAff '95) was selected as assistant city manager in Avondale, Ariz. She had served as the city's neighborhood & family services director since 2006.
Danny Sepulveda (MPAff '97) and Stacey Abrams (MPAff '98) were guests at the February 11, 2014, State Dinner at the White House. Ambassador Sepulveda currently serves as deputy assistant secretary of state and U.S. coordinator for international communication and information policy. Abrams is house minority leader for the Georgia General Assembly and state representative for Georgia House District 89.

Sarah Eckhardt (MPAff '98) won the democratic primary for Travis County Judge on March 4. Read about the race.

Anjum Khurshid (MPAff '98, PhD '07) is director of the Health Systems Division and Crescent City Beacon Community at the Louisiana Public Health Institute, based in New Orleans.
Patricia Osario-O'Dea (MPAff '98) is deputy to the vice provost in the Office of the President at the University of California.
2000-2004
Elena Farah (MPAff '00) graduated from the University of Houston in December 2013 with a PhD in political science. She started with the Laura and John Arnold Foundation as a director for sustainable public finance in January.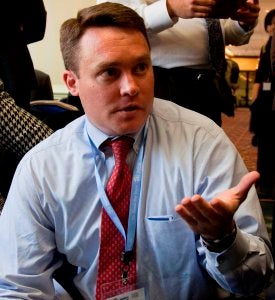 Matt de Ferranti (MPAff '01) is the senior director of government relations for Rebuilding Together, a national network of affiliate nonprofit organizations that repair the homes of low-income homeowners. The Washington, D.C. Alumni Chapter, recently profiled him. Read more.
Frank Fernandez (MPAff '01) was selected as The Arthur M. Blank Family Foundation's vice president of community development in Atlanta, Ga. He will lead implementation of the "Westside Neighborhood Prosperity Fund," a program designed to contribute to the transformation of neighborhoods surrounding the new Atlanta Falcons football stadium.
Charmane Sellers (MPAff '02) is president and chief executive officer of ALEON Properties, Inc. (API). The Greater Austin Black Chamber of Commerce recently named API "Small Business of the Year."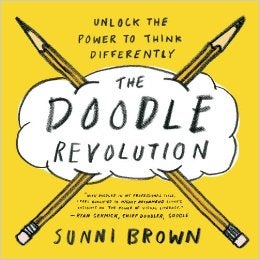 Sunni Brown (MPAff '04) published a second book in January. The Doodle Revolution: Unlock the Power to Think Differently is available on Amazon.
2005-2009
Aketa Emptage (MPAff '05) is director of client services at Magnus Health in Raleigh, North Carolina.
Darlene Lanham (MPAff '05) is managing director at Hill Country Advisory Group, LLC, in Austin.
Aaron Bareera (MPAff '07) is head of energy at the British Consulate in Houston.
Ian Brown (MPAff '08) and Kristen Slaughter Brown (MPAff '08) welcomed the most successful merging of their graduate degrees to date, son Holden Turner Brown, on July 26, 2013, in Austin, Texas. Ian is a foreign service officer with the U.S. Department of State, currently becoming fluent in Swahili in Arlington, Va., before the family moves to Dar es Salaam, Tanzania, for their third posting since joining the Foreign Service. Kristen continues to enjoy her new job as mom.
Peter Clark (MPAff '08) began a new position as communications director at Texans Care for Children.
C. Yvonne Montejano (MPAff '08) is a data application analyst in information services for People's Community Clinic in Austin.
Ryan Reyna (MPAff '08) welcomed a daughter, Charlotte, in December 2013.
Ellen Satterwhite (MPAff '09) is a director at Glen Echo Group in Washington, D.C.
Emily Vasile (MPAff '09) is a program coordinator for the Health Research Center at West Virginia University School of Public Health.
2010-present
Rajani KC Shrestha (MPAff '10) is a senior education officer for World Learning in Washington, D.C.
Rebecca Taylor (MPAff '10) is a venture principal with Shell Technology Ventures in Houston.
Colleen (Farish) Stapp (MPAff '12) accepted a position as an investor relations associate with AIC Ventures in Austin.
Andrew Berglund (MGPS '13) accepted an analyst position with the Government Accountability Office in Washington, D.C.
Matthew Driscoll (MGPS '13) is an attorney with Weil, Gotshal & Manges, LLP, in Washington, D.C.
Kelsey Hawley (MGPS '13) is assistant to the president and executive vice president at the The Stimson Center in Washington, D.C.
Norma Herrera Pena (MPAff '13) accepted a position as an analyst with the Texas Legislative Budget Board.
Racheal Kane (MPAff '13) works for the American Heart Association in Austin.
Kasey Klepfer (MPAff '13) took a position with Texas Guarantee (TG) as a research specialist in public policy. TG is located in Round Rock.
Tania Lara (MGPS '13) accepted a position as managing editor for Mileno Dairio, in Mexico City.
Brian Muzas (PhD '13) is an assistant professor with the School of Diplomacy and International Relations at Seton Hall University, located in New Jersey.
Daniel Noll (MGPS '13) will begin a one-year fellowship in April with the U.S. Department of Energy in the Office of Climate Change Policy and Technology. He will support Clean Energy Ministerial programs: the 21st Century Power Partnership and the International Smart Grid Action Network.
Andrea Ogilvie (MPAff '13) is pursuing a doctorate in engineering education at Virginia Polytechnic Institute and State University.
Adam Parker (MGPS '13) works as a senior researcher for Brookings Institution in Washington, D.C.
Yifei Zhang (MPAff '13) is an environmental manager for The Coca-Cola Company in Beijing, China.
Recent Alumni Gatherings
New York alumni held a happy hour on Saturday, February 1 at Pop @ Pod in Manhattan. The festivities were made all the better by UT Men's basketball team's victory over Kansas!


Inside the City,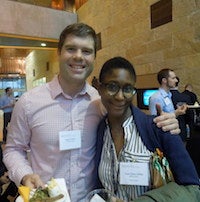 the first local government networking event for alumni and students, took place at Austin City Hall on February 4.
View this and other photos from the event, co-sponsored by Alumni Affairs and the Center for Politics and Governance.