GPAC Update
Will Payne (MPAff '14) President, Graduate Public Affairs Council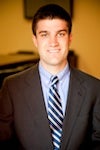 Working with the LBJ Alumni Board, we recently conducted a survey of current students to identify the types of career and professional development advice they would find valuable from alumni. We will use this feedback to develop additional resources with the help of our diverse and experienced alumni.
This month the first LBJ Student Ambassador program for prospective and admitted students will launch. LBJers of diverse backgrounds and academic interests will reach out to all of our admitted students. They will have online profiles allowing those admitted and prospective students to identify LBJers with similar interests and ask specific questions of those whom they identify with most closely.
Finally, I'd like to introduce the new GPAC president for 2014-15. Daniel Robles is a first-year MPAff student who has been a dedicated and valuable member of GPAC this past year. He will serve LBJ and the student body well and I know we're all looking forward to his contributions.