Alumna Profile - Joanna Schenke (MPAff '11)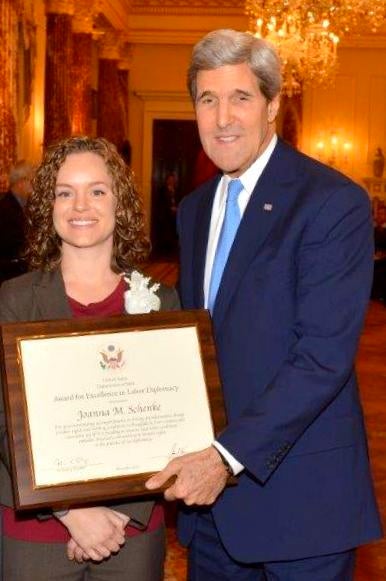 We first met alumna
Joanna Schenke
(MPAff '11 with a dual degree in Middle Eastern studies) in January 2011 when she was profiled by The University of Texas at Austin Graduate School in
Aspiring Diplomat: Meet dual-degree student, Joanna Schenke.
Joanna, originally from Houston, Texas, completed her undergraduate degrees in German studies and international relations from Pomona College. She was a Fulbright scholar in Turkey and Germany following her graduation in 2006. She was hired by the U.S. Department of State after completing her masters degrees at The University of Texas at Austin. Joanna was wrapping up a two-year assignment with the Foreign Service in Bangladesh when we caught up with her for Q&A.
Tell us three things you love about your job.
First: "You never know what you'll be doing when you show up to work in the morning. Things never get repetitive."
Second: "You are the voice of the United States Government. People pay attention to your message and respect you, even if they disagree with you."
Third: "There are lots of opportunities to travel, both in your country of assignment and in the region. For example, I just spent the weekend at a tea estate in northeastern Bangladesh. That is not an experience many tourists get to have."
What are some of the most interesting policy challenges you have encountered?
"How to respond constructively to the April 24, 2013, Rana Plaza building collapse, one of the deadliest industrial accidents in recent history, which killed 1,134 people.
How to engage U.S. brands, coordinate our efforts with the EU (the largest collective market for Bangladesh's garment exports), and with U.S. brands sourcing from Bangladesh. We have worked to turn the accident into an opportunity to improve working conditions and labor rights in Bangladesh's garment industry."
Where do you see yourself in 5 to 10 years?
"I hope to still be working for the Foreign Service. Most people who stick with this career for the first five years (after getting tenured) stay in through retirement. In another 5-10 years, I should be a tenured, mid-career officer with responsibilities to both report on a political issue in my country of assignment (for example, human rights, political-military affairs, domestic or external politics, or refugee issues) as well as to manage more junior officers. Alternatively, I could be working in the State Department's headquarters in Washington, D.C. By that point, I could be eligible for a position as an office director, or deputy depending on the office's size, overseeing the work of several desk officers. Desk officers are more junior positions that manage the State Department's relationship in Washington, D.C., with our officers in the field. This is a position I'll likely hold in another 2-3 years' time after my second tour in Muscat, Oman."
How did the LBJ School prepare you for your present career?
"Sifting through massive amounts of information and then figuring out how to present complex information to an uninformed, busy audience -whether orally or written - are two key skills I learned at the LBJ School. I use those every day. Writing concisely and tailoring your oral and written speech to your audience are extremely important tools for a diplomat. Get used to group work. Everything you do for a major bureaucratic organization like the State Department is group work."
What advice do you have for current LBJ School students interested in a career with the U.S. State Department?
"Apply early! The application process for the Foreign Service takes over a year. Talk to the diplomat in residence and take his/her class and go to his/her office hours. Apply for the State Department's internship program in the summer prior to graduation. If you're interested in the Foreign Service, take the written exam, the first step of the application process, as soon as possible. Careers.state.gov has all the info you need about both the Civil and Foreign Service. Being well-read and well-educated (as LBJ students tend to be) is a good first step to success. Knowing the basics of economics, management, U.S. government, U.S. history, and geopolitics will get you a long way on the Foreign Service written test. The Foreign Service oral exam is looking for someone who exhibits these 13 dimensions such as composure and working with others by exhibiting good interpersonal skills."
Please tell us about any awards or honors you have received.
"In my first tour in Dhaka, Bangladesh, as the human rights officer, I won the department-wide award for excellence in labor diplomacy. This is a global competition open to all officers who have the responsibility to report on labor issues, such as workers' rights and working conditions. I focused a lot of my efforts on advancing workers' rights overseas during my time in Dhaka, won the award as a result of my reporting, and flew back to Washington for an awards ceremony that Secretary Kerry presided over. It was a great honor, as very few officers receive this kind of recognition so early in their career."

We expect this was only the first of many honors Joanna will receive in the years to come as she forges a career in foreign service. What starts here does indeed change the world.