Cornerstone Winter 2013
David Berteau (MPAff '81) to Receive 2013 Distinguished Public Service Award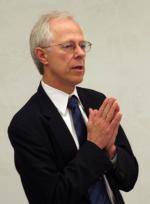 The Distinguished Public Service Award (DPSA) is the highest honor the LBJ School of Public Affairs bestows on its graduates and is reserved for those who go above and beyond in their leadership commitment to public service. This year, the LBJ School is pleased to announce
David Berteau
(MPAff '81) as the recipient of the 2013 DPSA.
A recognized expert on government and defense management and public-private issues, Berteau is a senior vice president at the Center for Strategic and International Studies, where he is the director of the National Security Program on Industry and Resources. Previously, Berteau served in the Defense Department for 12 years and was the principal deputy assistant secretary of defense for Production and Logistics from 1990 to 1993. He teaches graduate-level courses at the LBJ School of Public Affairs, the Maxwell School of Citizenship and Public Affairs, and Georgetown University. Berteau is also an associate of the Robert S. Strauss Center for International Security and Law at The University of Texas at Austin and a fellow of the National Academy of Public Administration.
"During his remarkable career, David has always remained strongly connected to the LBJ School," said Dean Robert Hutchings. "His counsel and advice were instrumental in the early stages of the LBJ School's Washington Program, and we have been grateful for David's longstanding involvement as an alumnus, scholar and educator. David is an exemplar of what dedicated and committed individuals can accomplish in the field of public service."

Berteau was nominated for the award by fellow alumnus Eli Massey (MPAff '05). In his letter of nomination, Massey writes, "Many people are recognized as experts on government and defense issues, but David has been repeatedly recognized at the highest levels for his dedication and superior service. More impressive than just the number of times David has been recognized is the humility that David brings to such recognition… For more than all of David's knowledge and accomplishments, I am proud to support his nomination for the DPSA because of his commitment, compassion and genuine desire to make the country we live in a better place."
Additional nominations were made by LBJ School faculty member Dr. Robert Wilson and Fernando Rodriguez (MPAff '05). The selection committee included members of the Alumni Reunion Weekend & Alumni Recognition Committee, Moses Garcia (MPAff '05) chair, Jon Gillum (MPAff '02), Norm Linsky (MPAff '77), Kimberly Springer (MPAff '04), 2012 DPSA recipient Robert Campbell (MPAff '73), and LBJ School faculty representative to the Alumni Board, Dr. David Warner.

Berteau will be presented the 2013 Distinguished Public Service Award at the LBJ School in conjunction with the School's annual Alumni Reunion Weekend in April.
---
Alumni Events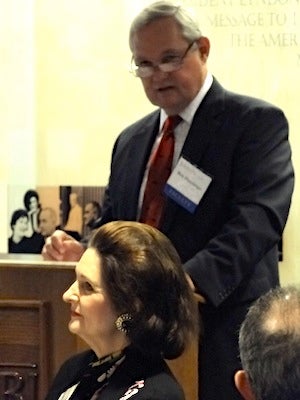 Legislative Wrap Up An impressive panel of LBJ School alumni and students reviewed the 2013 Texas Legislative Session. The event garnered excellent local coverage in the Daily Texan and YNN.
Sean Reyna (MPAff '09) offered a professional development course at the School in advanced Excel pivot tables.
The Class of 1983 met to celebrate their 30th reunion. Special guests Lynda Johnson Robb and Dean Hutchings (pictured) spoke to the class during a dinner hosted at the LBJ School by classmate Rachel Speltz Dunlap.
The Annual Alumni Tailgate and Chili Cook Off was a huge success! Thanks to The Great Tailgate Society and Austin Area Alumni Chapter for co-hosting!
Save the Date!
January 16 - How to Use the Alumni Directory Learn how to update your information, jazz up your directory profile, search for fellow alumni, and more.
February 4 - Inside the City at Austin City Hall. Meet fellow alumni and current students working or interning in local government. Co-hosted by the LBJ School's Center for Politics and Governance.
February 27 - Center for Health and Social Policy (CHASP) & Social, Health, and Economic Policymakers (SHEP) Student-Alumni Mixer
April 11-12 - Alumni Reunion Weekend and presentation of the Distinguished Public Service Award to 2013 recipient David Berteau (MPAff '81)
Austin Area Alumni Chapter holds monthly happy hours on the second Wednesday of the month
January 8: Black Star Co-Op
February 12: Shangri-La

Washington, D.C. Alumni Chapter events
February 5: Happy Hour at Bar Louie
February 25: Alumni Dinner Series featuring Dr. Tanvi Madan (PhD '12), fellow at the Brookings Institution
---
Social Media: Are You Plugged In?
Connecting with fellow LBJ School alumni has never been easier. Get the most out of technology!
There are many (many!) Facebook pages and groups in addition to the School's official Facebook Page and the Alumni Page, including a brand new Houston Facebook group started by Alumni Board member Isabel Nart ('80).

Austin Area Alumni Chapter
Houston Chapter
Washington, D.C Alumni Chapter
Interested in professional contacts? The LBJ School LinkedIn group is 1,600+ members strong, and we have an LBJ School Career Resources group that posts jobs daily.

Our alumni directory allows you to search by name, class year, location, policy area, organization name and more. You are able to contact fellow alumni via blind email provided that person has an email on file.
Your alumni coordinator, Michelle Potter-Bacon, will teach a class, How to Use the Alumni Directory, on January 16, and will post a video online for those of you unable to attend in person. Register today!
---
Great Society Page
First jobs. Promotions. Retirements. Engagements. Marriages. Passings. Life after the LBJ School.
Keep up with your fellow alumni in the Great Society Page.