Cornerstone Winter 2012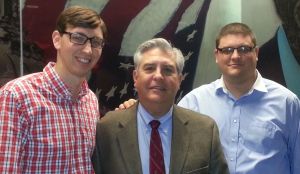 It took a few post cards from Barbara Jordan inviting him to meet the former legislator and learn more about the LBJ School to get
Michael Reyna
(BBA '78, MPAff '82) to make the trip to east campus.
Read more about Michael Reyna and sons
Sean Reyna
(BA '05, MPAff '09) and
Ryan Reyna
(MPAff '08)
here
.
---
Stellar Young Alumni Named in Forbes Magazine's '30 Under 30'
Greg Pardo (MPAff '10) and Martha Bloem (MPAff '10) were recognized in the Law and Policy category. Pardo currently serves as vice-consul at the U.S. Embassy in New Delhi, India. Bloem is a senior program officer in New York for the Institute of International Education. Read Greg's profile. View Martha's profile. Melissa Lott (MPAff '10) was honored in the Energy category. Melissa's listing is available here.

Find out more about Forbes '30 Under 30' here.
---
Gene Wu (MPAff '04) Elected to Texas State House of Representatives
Congratulations to Representative-Elect Wu of Houston's District 137. Find out more about Gene by visiting his campaign web site and "like him" on Facebook.

---
Call for Nominations to LBJ School Alumni Board
The LBJ School of Public Affairs is requesting nominations for enthusiastic and dedicated alumni to join us as members of a newly formed Alumni Board, beginning spring 2013. This new Alumni Board will consist of up to eleven alumni members.

Full details about the Board and the nomination process are available here. Nominations are due by Monday, December 31, 2012.

---
1982 Class Reunion
The class of 1982 gathered for its 30th reunion in October, a tradition of meeting every five years that's been de rigueur since graduation. Alumni gathered at the School Friday, October 5 to tour the building and meet Dean Hutchings. Class organizers Blaine Bull and Pat Cuthbertson also arranged a happy hour at Hill's Cafe, which included live music from Jorge Rodriguez. Mike Reyna led a bike tour on Saturday morning, and a barbeque dinner at the Bull's home that evening capped off a terrific weekend of activities.


---
Elspeth Rostow Public Service Fellowship Names First Recipient

Jason Brooks (MGPS '13 expected) has been selected from a group of impressive applicants as the first recipient of the Elspeth Rostow Public Service Fellowship.

An internationally recognized expert on national politics and U.S foreign policy, Rostow served as Dean of the LBJ School from 1977 to 1983. Prior to that she served as Dean of the UT Austin Division of General and Comparative Studies. Rostow, who passed away in 2007, also was the Stiles Professor Emerita in American Studies.

The Rostow Fellowship, which includes a financial award of $2,500, honors a continuing student who actively pursues opportunities to serve the public while pursuing a degree at the LBJ School.

In reporting its decision, the committee noted the range and diversity of Mr. Brooks' commitments to service at the campus, regional, state and national levels. The selection committee was particularly impressed with Jason's youth mentoring work with Explore Austin, his entrepreneurial spirit in co-founding Cedar Park Boxing for at-risk youth, his leadership role as the president of the University's Alexander Hamilton Society, and his contributions to the Strauss Center's Next Generation Project.

---
Career Resources for Alumni & How to Hire an LBJ School Student
The Office of Career Resources provides lifelong services to LBJ School alumni. One of the most powerful ways to give back to the LBJ School is to hire students. Jobs and internships posted on Career Connections also appear on the Career Resources LinkedIn Group. Join either service to advertise your own opportunities or use them for your personal job search. Want to hire a student? View a sample job posting to draft your announcement and learn more about hiring LBJ School students here.

We welcome your postings. Please submit your openings to LBJ Career Support. Questions? Contact Lana Morris, (512) 471-3290.