Spring 2012
2012 Alumni Reunion Weekend
Please join Dean Robert Hutchings and the First Graduating Class of 1972
Schedule of Events
Friday, April 20
5:30 to 7 p.m. Alumni Reception
6:30 p.m. Presentation of the LBJ School Alumni Association's 2011 Distinguished Public Service Award to John O'Brien (MPAff '81).
Saturday, April 21
9 to 11:45 a.m. Breakfast & Policy Talks by LBJ School Faculty
"Social Innovation Will Save the World" by Suzi Sosa, executive director of the Dell Social Innovation Challange
"Lessons from American Nation-Building" by Professor Jeremi Suri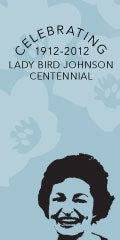 Noon to 1:30 p.m. Luncheon
"More Than Wildflowers: Lady Bird Johnson's Conservation Legacy" by keynote speaker Susan Rieff (MPAff '80), executive director of the Lady Bird Johnson Wildflower Center.
5:30 p.m. Cocktails at the Driskill Hotel Bar
Full event details and registration is available here. Kindly register by April 13
---
Take a Summer Course in the Philippines with Professor David Eaton
Alumni are encouraged to enroll in "Development Within A Low Carbon World: Preparing Professionals for Disaster Risk Management and Climate Change Adaptation."
This Augmester course on climate change policies toward low carbon society is designed and organized jointly by the Graduate School for International Development and Cooperation, Hiroshima University, co-organized with School of Urban and Regional Planning at the University of Philippines Diliman (UP SURP) and the Lyndon B. Johnson School of Public Affairs at The University of Texas at Austin. The course will be conducted at the UP SURP campus.
A more comprehensive description is available here. The cost for this course is $1500 plus personal expenses, including travel and housing. Alumni interested in participating are encouraged to contact Professor David Eaton as soon as possible to ensure a seat.
---
Executive Education by Professor Jeremi Suri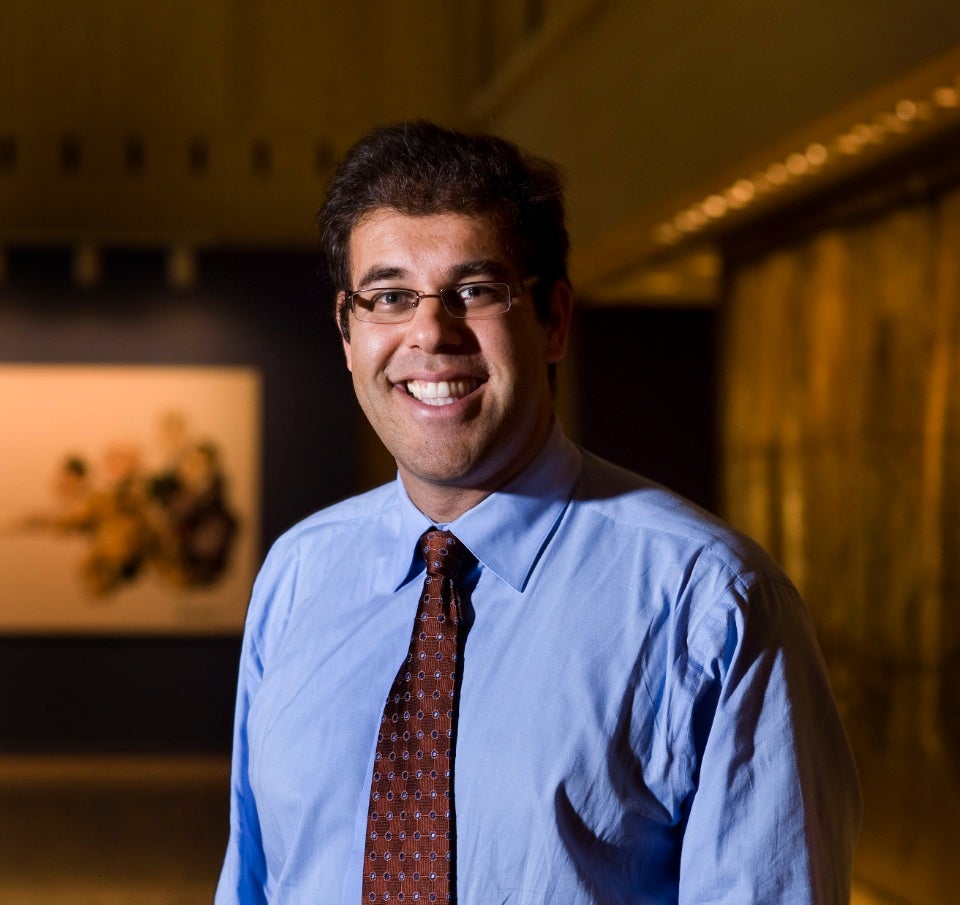 As part of the new "Executive Leader Series" sponsored by the School's Office of Professional Development, Dr. Jeremi Suri, professor of public affairs and professor of history and Mack Brown Distinguished Chair for Leadership in Global Affairs at the Robert S. Strauss Center for International Security and Law, will teach a two-day executive education course "Leadership, Strategy, and Decision-Making" on May 3 - 4 in Austin. The course is targeted for senior level leaders in business, government, and not-for-profit organizations that recognize the need to move beyond the traditional methods of thinking and decision-making. Dr. Suri will use historical case analyses to enable participants to learn and practice a framework for identifying the background and context that critically affect the outcomes of current decisions.
Download the program brochure.
Call Barry Bales, LBJ School assistant dean for professional development, at (512) 232-4028 for information about the alumni tuition discount for this course.
---
LBJ School alumni hosted tables at the Barbara Jordan Forum Luncheon on February 21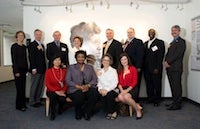 (L to R, Back Row)
Leslie Friedlander (MPAff '84), Brad Englert (MPAff '84), Dana DeBeauvoir (MPAff '81), LBJ School Dean Robert Hutchings, Mike Reyna (MPAff '82), Deece Eckstein (JD '88), Ladi Mosadomi (MPAff '07), and Stephen Niemeyer (MPAff '92).
(L to R, Front Row)
Tess Nira (MPAff '82), Keynote Speaker Georgia State Representative Stacey Abrams (MPAff '98), Tura Campanella Cook (MPAff '81), Katie O'Brien (MPAff '11)
Additional alumni photos from the event are available on the LBJ School Alumni Facebook page.
---
'Dillo Cup Alumni & Faculty Game April 28
Join the alumni 'Dillo Cup team and help the LBJ School beat the A&M Bush School!
Saturday, April 28, 2012
1 - 5 p.m.
East Metropolitan Park
18701 Blake Manor Road
Austin, Texas
The alumni/staff/faculty game starts at 1:30 p.m., with catered barbecue lunch to follow. If you are interested in representing the great alumni in defending the honor of the LBJ School, sign up today!
Come Early. Be Loud. Win 'Dillo.