Great Society Page
1970s
Graham Hill (MPAff '73) recently joined the law firm of Heard, Robins, Cloud & Black, LLP in Houston.
Ed Emmett (MPAff '74) was featured as a Texas Lone Star in the Strategic Partnership, Inc. January 27, 2012 issue of Texas Government Insider. Emmett is a county judge in Harris County. Read the article here.
Sarah Farley (MPAff '77) has been selected to serve as program developer for the Seton Health Alliance (SHA), a new model for delivering health care in Central Texas. Seton Healthcare Family partnered with Austin Regional Clinic to create SHA, an Accountable Care Organization.
1980s
Pierce Homer (MPAff '82) is the transportation director for Moffatt & Nichol in Richmond, Virginia. Pierce formerly served as Secretary of Transportation for the Commonwealth of Virginia.

Tim Delaney (MPAff '83) is president and CEO of National Council of Nonprofits in Washington, D.C.
Leslie Friedlander (MPAff '84) has a private law practice in Austin. Find out more here.
Velma Danielson (MPAff '86) retired from Edwards Aquifer Authority in 2010 and currently provides private consulting.
1990s
Brock Curry (MPAff '90) is the assistant general manager at Edwards Aquifer Authority in San Antonio, Texas.
Molly (Takvorian) Bolte (MPAff '96) started a consulting business, Molly Bolte Consulting, in May 2011, after six years with a start-up software company.
Saretta Ramdial (MPAff '97) recently took a position as manager of corporate affairs at Xeris Pharmaceutical, Inc., in Austin.


Shamina Singh (MPAff '97) is vice president of government and public affairs at Nike, Inc. Previously she was chief operating officer, Global Community.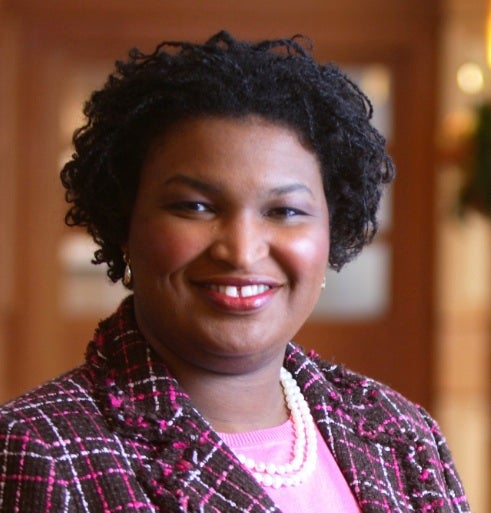 Stacey Abrams (MPAff '98) delivered the keynote address at the 2012 Barbara Jordan Week Luncheon. In addition to her inspiring speech, Abrams was presented with a plaque by the mayor's office, declaring February 21, 2012 as "Stacey Y. Abrams Day" in the City of Austin. Visit this page for full coverage, including photos and a video of her speech.
Nancy Harris (MPAff '98) is an attorney of counsel at Orrick, Herrington & Sutcliffe, LLP in Sacramento.
Heath Prince (MPAff '98) named associate director by the Ray Marshall Center for the Study of Human Resources, effective mid-March. Prince previously served as a senior policy analyst for workforce development at the Center for Law and Social Policy in Washington, D.C. He has also worked as a senior researcher with Jobs for the Future and as an adjunct lecturer at Brandeis University.
Prince holds a bachelor's degree from the University of Colorado, Boulder. Later this year, Prince will complete his PhD research through Brandeis University.

Dana Williams (MPAff '99) is the division director of administrative services at Travis County Adult Probation.
2000s
Tina Bui (MPAff '01) recently took a position with the City of Austin in the Environmental Affairs and Conservation area of the water utility.
Perla Cavazos (MPAff '02) is a policy analyst for the Texas Legal Services Center in Austin. Previously she worked for the Texas Senate.
Vanessa Gerace Bouché (MPAff '04) completed her doctorate in political science at Ohio State University in 2011. She is a consultant specializing in government relations in the Cincinnati area.
Darlene Lanham (MPAff '05) is communications manager with Texas Nursery and Landscape Association. She previously has served as director of public affairs for Texas Municipal Police Association and director of National Coalition Building Institute's Texas chapter.
In 2010, Ms. Lanham was elected chair of the Capital Area Council of Government's Criminal Justice Advisory Committee, which prioritizes grant funding for critical services such as women's shelters and after school programs for a 10-county region.
Jennie (Kerr) Sasser (MPAff '05) writes, "I joined Pfizer, Inc. as a director in HR Operations, effective December 2011. In my role as the global standards management lead, I manage a global team with responsibility for HR process design, stabilization and continuous improvement within the HR Service Delivery Model. Prior to this, I was a manager at Deloitte Consulting, focused specifically on HR transformation."
Erica Ekwurzel (MPAff '07) is a consultant managing the advocacy efforts for the KDK-Harman Foundation in Austin. She is a certified fundraising executive (CFRE) and is an active volunteer with a number of educational fundraising organizations in Central Texas.

Tim Kyukendall (MPAff '07) is a senior consultant at Deloitte Consulting in Austin. His specializes in the area of child support.
Major Gregory V. Campion (MPAff '08) writes: "I am an Army officer who attended LBJ from January 2007 to December 2008 en route to West Point where I taught economics and econometrics in the Social Sciences Department. I've since been assigned as Operations Officer for 1st Squadron, 7th U.S. Cavalry here at Fort Hood. I am presently deployed to Kuwait after serving 6 months in Iraq. I'll redeploy to Texas in June 2012 and will remain in Texas until July 2013."
Stephanie Chiarello (MPAff '08) was recently hired by Texas Senator Kirk Watson to serve as director of the Senate Democratic Caucus, following three legislative sessions in the office of Texas Representative Mike Villarreal of San Antonio.
Lindsey Foster Stringer (MPAff '09) is a site manager for TNTP (The New Teacher Project) in the Human Capital Systems Department.
Livier Cabezas (MPAff '09) is a co-author of The UCLA Center for Health Policy Research February 2012 report, "The State of Health Insurance in California: Findings from the 2009 California Health Interview Survey." The full report is available for download here: http://www.healthpolicy.ucla.edu/pubs/files/shic2009report.pdf
Laura Martin (MPAff '09) is a research coordinator at the Texas Association of Community Health Centers (TACHC).
At TACHC Ms. Martin manages a federal Children's Health Insurance Program Reauthorization Act (CHIPRA) grant and works with community health workers in three Rio Grande Valley health centers to enroll children in CHIP. She also monitors legislation and regulations affecting health centers, and works with 69 member health centers on grassroots advocacy.
Prior to this she was State Rep. Armando Walle's legislative director, whose agenda focused on school discipline, human services and the high school dropout rate. During her time at the LBJ School and immediately afterward she worked at the ACLU, where she focused on immigration, border security, human trafficking and privacy.
Whet Smith (MPAff '09) is running for the Texas House of Representatives in Houston's district 138. Smith is an attorney and is married to LBJ School alumna LyAnna Smith (MPAff '09) who currently is a candidate for ordained ministry in the United Methodist Church. Find our more about Whet's campaign here.
2010s

Jordan Munn (MPAff '10) is a talent reseach and evaluation manager for the New York City Department of Education.

Lauren Burton (MPAff '11) accepted a position as a project and program coordinator for the University of North Texas in Denton.


Sarah Fiorenza (MGPS '11) took a position as a program associate with EcoAgriculture Partners, a small NGO based in Washington, D.C. They promote sustainable landscape management approaches that improve rural livelihoods, conserve the environment and ecosystem health, and increase agricultural output.