News
Alumna Kathleen Merrigan Named 2011 LBJ School Commencement Speaker
Deputy Secretary of Agriculture Kathleen Merrigan (MPAff '87) will give the keynote address at the LBJ School commencement celebration on May 21 in the Ladybird Johnson Auditorium. Who gave the commencement speech at your graduation ceremony? See a list of former speakers here.


Under the Dome
Eighty- two alumni and students met 'Under the Dome' (at the Texas State Capitol) on February 8 for an early evening networking event. Sherri Greenberg, interim director of the LBJ School's Center for Politics and Governance (CPG), gathered alumni and students who work or intern with the Texas State Legislature to informally network.
"I wanted our students and alums who work or intern with the Texas Legislature to network and get to know each other, since many see each other around the Capitol, but do not realize that they have an LBJ School connection," said Greenberg.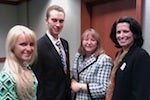 Current student, Asha Dane'el (MPAff '12) noted, "LBJ students and alumni have a heavy presence at the Capitol. At the Under the Dome event, I was able to network and see the kind of things I could do with my LBJ degree. We are truly movers and shakers in the Texas legislature. It is exciting!" Alumnus Bryan Hadley (MPAff '07), an analyst with the Legislative Budget Board, remarked, "Talking to fellow alumni is one of my favorite things about the LBJ School. People are doing interesting work they seem to really care about. It's great to genuinely enjoy listening to people talk about their jobs."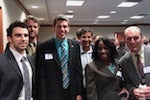 State Senator Florence Shapiro, CPG advisory council member, was the official sponsor of the inaugural event. 

Those interested in future events and networking with fellow alumni working with the Lege are encouraged to join the "LBJ - Under the Dome" Facebook group.




Alumni Directory Coming Soon
The LBJ School and several University of Texas at Austin partner schools have begun development of a new and vastly improved alumni directory. It is scheduled to launch in June. Stay tuned for more details.

LBJ Faculty Earn Teaching Accolades

LBJ School's Pat Wong, associate professor of public affairs and MPAff graduate adviser is the recipient of the 2011 Texas Exes Teaching Award.
The purpose of the award is to promote quality teaching at The University of Texas by publicly recognizing professors who have had a positive influence on the educational experience of university students.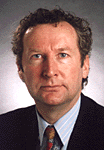 LBJ School Professor Peter Ward was selected for the University's Outstanding Graduate Advisor Award for 2011. Professor Ward will be formally recognized at two special events: the Graduate School/University Co-op Awards Banquet on Wednesday, May 18, and the Graduate School Convocation on Saturday, May 21. Ward is the C.B. Smith Sr. Centennial Chair in U.S.-Mexico Relations and Professor of Public Affairs and Sociology.



Social Media Just for Alumni
Click on the social media icons on this page to join the 1,300 member strong LinkedIn group, join the new LBJ School Alumni Facebook Fan Page, and get quick updates on all types of alumni-focused news and events on Twitter.

The Baines Report
A new edition of The Baines Report: Policy in Perspective, formerly known as LBJ Journal, Online Edition, was published in March. Please see the full version here.


Admissions Update
From OSAP Director Megan Murphy

It's an exciting time in OSAP, as we are nearing the conclusion of the admissions process for fall 2011 applicants. With the help of nine dedicated committee members, we completed the review of the applicant files last week. Offers of admission are currently underway, and we look forward to welcoming another exceptional incoming class in the fall.

The weeks ahead will be busy as we host open house events on March 28, April 4 and April 11 for admitted students to learn more about the LBJ School. Current students will host happy hour gatherings from 4:30–6:30 p.m. on each of those dates. If you are in the Austin area and would like to meet the visiting candidates, please contact Michelle Potter-Bacon at (512) 232-6141 for details.