The Great Society Page
Spring 2011 Alumni Notes
1970s
Len Redding (MPAff '72) writes about the many activities that keep him busy in Missouri: "I have been an ordained minister since 1985 and am still active in that calling. Nevertheless, public affairs have been a constant in my life throughout my ministry.
 Having chosen to serve the underserved (small rural congregations), I have followed an old tradition of bi-vocational ministry, meaning I earn a substantial part of my way through non-ministry employment. As such I have managed two senior centers (per Older Americans Act of 1965 and amendments). I have also directed a transportation service for the elderly and people with disabilities.

Currently I serve on the board of a senior center with nationwide responsibilities. I am also a senator in the Missouri Silver Haired Legislature, representing four rural counties of western Missouri.

Those are just the big pieces. I am an ongoing advocate locally for senior adults, barrier-free-access, recycling, volunteering, Veterans affairs and alternate fuels (non-petroleum) for our daily run-about transportation."


Billy Hamilton (MPAff '75) wrote "Other states' budget ills shed light on Texas woes," published in the Austin American Statesman on Jan. 10, 2011. He also was quoted in staff writer Kate Alexander's article "Texas' budget challenges could persist beyond 2011" on Jan. 30, 2011.

Hamilton is a fiscal consultant at Capitol Metro.



Rodney Ellis (MPAff '77) was the keynote speaker at the Barbara Jordan Forum luncheon on February 21. View State Senator Ellis' talk here.

Bill Stotesbery (MPAff '77) was quoted in the Austin American Statesman article, "House Republican poised to kill public broadcasting funds on Feb. 15." Stotesbery is the CEO of the Austin public television station KLRU. Read the article.

Laura Doll (MPAff '78) was elected as chair of the Board of Directors for the Electric Reliability Council of Texas, Inc. (ERCOT). Read the press release here.
1980s
Annette LoVoi (MPAff '80) is a trustee of the Austin Independent School District (AISD). She was quoted in a Feb. 27 Austin American Statesman article about the AISD budget crisis. Read more here. 


John O'Brien (MPAff '81) was attributed the "Quote of the Day" on Feb. 1, 2011, by the Austin American Statesman: "'The costs will be there whether you fund them or not.' Legislative Budget Board Director John O'Brien after a member of the Senate Finance Committee asked what would happen if lawmakers did not provide funds for the growing demand for Medicaid services."

Brian Guthrie (MPAff '83) was named executive director of the Teacher Retirement System of Texas (TRS) in February. Read the press release. Guthrie will assume the position on Sept. 1. He succeeds Ronnie Jung (MPAff '91), who will stay on with TRS until Jan. 31, 2012, to assist during the leadership transition. Jung announced his intention to step down in April 2010.

Sung Deuk Hahm (MPAff '89) is a professor of public administration in the College of Political Science and Economics at Korea University. He currently is on a sabbatical at Georgetown University in Washington, D.C.

Suzanne Villalón-Hinojasa (MPAff '89) started her own law firm specializing in Social Security disability. She is based in Scherts, Texas.
1990s
Ann Baddour (MPAff '06) is a senior policy analyst with Texas Appleseed in Austin.


Mark Berte (MPAff '96) is director of community engagement at the Mobile Area Education Foundation in Alabama.


Amanda Timm (MPAff '96) was promoted to executive director of the Houston branch of Local Initiative Support Corporation (LISC).

Andrea Fuller (MPAff '96) is CEO of Mindfarm, a placement firm for experienced consultants, in Washington, D.C.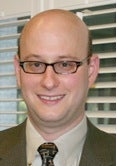 Michael Cohen (MPAff '97) serves as chief deputy director of the Department of Finance for Governor Jerry Brown. In this capacity, Mr. Cohen advises the Governor on the state budget and serves as the department's lead contact with the state Legislature.

From 1997 to 2010, Mr. Cohen worked at the Legislative Analyst's Office (LAO). Most recently, he served as deputy legislative analyst and advised the legislature on a wide range of matters relating to state government including the state's overall budget situation. He previously served as the LAO's director of state administration and as a local government finance analyst.


Stacey Abrams (MPAff '98) was named by Georgia Governor Nathan Deal in January to act as a liaison with the Atlanta Public Schools. Representative Abrams is the House minority leader for the Georgia General Assembly and state representative for the 84th House District.


Chris Sharman (MPAff '98) joined OConnectEDU in October as Texas director. Based in Boston, OConnectEDU is an online college and career-planning firm. Sharman will lead a new Austin office, focusing on Texas partners and projects. Read more here.

Horacio Adlrete-Sanchez (MPAff '99) was quoted in an Austin American Statesman article on Feb. 25. Read more here. 
He is an associate director for Standard & Poor's International Public Finance in Dallas.


Erin Taylor (MPAff '99) is the political director for Alliance for Climate Protection, Climate Protection Action Fund, Repower America, in Washington, D.C.

Rob Strauss (MPAff '98) is the director of corporate and foundation relations at Southern Methodist University in Dallas.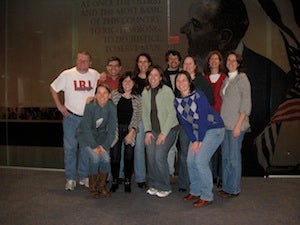 Members of the Class of '96 visited the LJB School in January.


Front Row (L-R): Stephanie Upp, Andrea Fuller, Nancy Harris, Kathi Masterson


Back Row (L-R): Chris Bjornson, Mark Berte, Corene Kendrick, Drew Scheberle, Shannon Stewart, Cecilia Coleman, Amanda Timm

2000s

Mark Rincón (MPAff '01) was promoted to special advisor, Office of European Security & Political Affairs at the U.S. State Department. He formerly held the title of OSCE desk officer.

Laura Grund (MPAff '02) has taken a new position as vice president of housing with Harlem United in New York.

Lisa Owens (MPAff '02) became chief financial officer of AIDS Services of Austin after a six year with The Leukemia & Lymphoma Society in leadership positions in both Central Texas and as a member of the national staff.



Drew Scheberle (MPAff '02) is vice president of education with the Greater Austin Chamber of Commerce. He was quoted in a Feb. 27 Austin American Statesman article about the AISD budget crisis. Read more here.

Clare Ribando Seelke (MPAff '03) was profiled as "Federal Player of the Week" by the Washington Post on February 7, 2011. Read the article.

Alexandra Ritchie (MPAff '05) has taken a new position with the U.S. Department of the Interior as a management and program analyst. 



Ken Flippin (MPAff '06) is a field advocacy consultant in Austin for the Washington, D.C.-based Ibarra Strategy Group (ISG).



Kelty Garbee (MPAff '06) is a doctoral student in the College of Education at The University of Texas at Austin and serves as the early college high school program manager at the Texas Education Agency.



Amy Shuart (MPAff '07) left the Social Security Administration (SSA) and took a new role as professional staff with the Committee on Ways and Means, Subcommittee on Social Security. Her new portfolio will cover a range of SSA related topics including solvency and reform, benefits, service delivery, and systems/information technology.

Michael Meyer (MPAff '09) is a budget analyst with the Texas Senate Finance Committee.



Livier Cabezas (MPAff '09) works for the UCLA Center for Health Policy Research. Her team released a policy brief in February, "Two-thirds of California's 7 Million Uninsured May Obtain Coverage Under Heath Care Reform." Find the Feb. 15 article containing the brief here.

Rebecca (Carson) Shah (MPAff '09) is a program coordinator for Data Quality Campaign in Washington, D.C.



Dana D'Orazio (MPAff '09) works as the coordinator of leadership and learning for Philadelphia Youth Network.



Lauren Dimitry (MPAff '10) is policy coordinator for Texans Care for Children in Austin.


Matthew Gullett (MGPS '10) is employed in the Public and Government Affairs division of the Texas Department of Transportation.


Kate Mason (MPAff '10) is legislative director for Texas Representative Naomi R. Gonzales.



Lauren Rose (MPAff '10) is a mental health policy fellow for Texans Care for Children.



Rehan Zahid (MPAff '10) is employed with the United Nations World Food Programme in Rome, Italy.