Winter 2011-12 Issue
John O'Brien (MPAff '81) selected for 2011 LBJ School Distinguished Public Service Award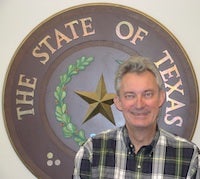 Lyndon B. Johnson School of Public Affairs alumni working at the Texas Legislative Budget Board (LBB) do not have to look far to find an alumnus who embodied the traits sought for the LBJ School Alumni Association Distinguished Public Service Award (DPSA): public policy contributions, community service engagement, demonstrated leadership and commitment to promotion of the LBJ School. LBB director John O'Brien meets and exceeds each requirement with ease.
Mr. O'Brien's 2011 nomination packet, submitted by LBB colleagues Jennifer Fox (MPAff '01) and Emily Sentilles (MPAff '08), boasts a record number 27 co-signatures of fellow LBJ School alumni who are current and former LBB employees. It includes glowing letters of support from Texas Lt. Gov. David Dewhurst, former Speaker of the Texas House of Representatives, Tom Craddick, and Texas State Auditor and former LBB Director John Keel, all of whom praise Mr. O'Brien for his "integrity and professionalism" in leading the work of the agency, which is central to the state's legislative process. Mr. O'Brien will be presented with the Distinguished Public Service Award at a ceremony on Friday, April 20, 2012 at the LBJ School in conjunction with the annual alumni reunion weekend. 
 Read the full press release.
Alumni Ambassadors: Recruiting the Class of 2014
You can make a difference in the next entering class. Speaking with an LBJ School alum may be the deciding factor for a student who is weighing several public affairs programs. Here are some ways alumni can be part of student recruitment at the School:
Attend lunch at the School with admitted students during an open house event on March 22, April 2 or April 9;
Attend a career fair in your area and talk with prospective students about the LBJ School.
Contact the

Office of Alumni Affairs

today and make a real difference.
Recent Events
Annual Washington, D.C. Alumni Event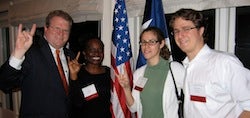 Alumni gathered at historic Credit Union House in September for a casual evening event with Dean and Mrs. Hutchings. Not even the rainy weather could dampen the spirits of LBJ alumni as they mixed and mingled, enjoyed the view of Washington, D.C. from the rooftop terrace and learned about the latest initiatives at the School. Enjoy this photo slideshow.



Houston
On November 2, LBJ School alumni gathered at the River Oaks Country Club in Houston for an alumni reception with Dean and Mrs. Hutchings, and honored guest, Lt. Governor Bill Hobby.
Graduates from 1972 through 2011 enjoyed delicious food and terrific networking with fellow Houstonians.See a slideshow of photos from this lovely event, generously sponsored by Rachel (Speltz) Dunlap (MPAff '83) and husband Jim.