Welcome from GPAC President Larry Anazia (MPAff student)
LBJ alumni,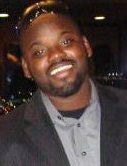 I hope you have had an enjoyable and relaxing holiday season. My name is Larry Anazia, and I am serving as the GPAC president for the 2010 – 2011 school year. This school year we have been able to accomplish many things, and I attribute this to our dedicated membership, strong officer core, and active student body. We have hosted a number of service activities, strived to improve student life, and in true LBJ School fashion, had many happy hours and socials. This semester we plan to continue addressing student needs as well as ensuring that the LBJ student experience is a fulfilling one.
We want to keep alumni in the loop as to what is going on at the LBJ School and encourage you all to approach GPAC with your thoughts and ideas. It has been a pleasure meeting a number of our Austin alumni and hope to meet more of you as time passes. I'm looking forward to future joint social activities as well as the alumni dinner opportunities.
Thanks for your time and take care,
Larry Anazia
GPAC President 2010 – 2011