The LBJ School: Helping its students change the world
Shortly after The University of Texas at Austin adopted the motto "What Starts Here Changes the World," the LBJ School came up with its own way to embody that spirit. New programs and areas of study within LBJ are not only educating students about how to change the world, they are giving them the opportunity to start doing it.
Social entrepreneurship (also referred to as social innovation) combines altruistic energy with business logic in an effort to find modern, sustainable solutions to social problems. For three years, students at the LBJ School and graduate students from across the university have been enrolling in social entrepreneurship courses, which allow them to create their own venture plans. Students begin the course with an idea and work throughout the semester to develop competitive, ready-to-launch social enterprises. The coursework moves beyond theory to real-world application: students must develop pricing models, identify potential funders, and make all decisions required to create a finalized social venture plan.
Instructing these new undergraduate and graduate courses and heading up social entrepreneurship efforts at the LBJ School are Dr. Peter Frumkin and Suzi Sosa, both of the RGK Center for Philanthropy and Community Service. As the director of the RGK Center, Frumkin oversees a wide variety of efforts to educate students about community service and engage them with the philanthropic sector. Sosa, associate director for programs at the RGK Center, specializes in social entrepreneurship and coordinates one of the Center's most recent areas of growth, the Dell Social Innovation Competition (DSIC).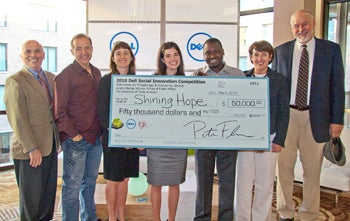 Each spring for four years, Dell and the RGK Center have hosted the DSIC in Austin and inspired students around the world to think like social entrepreneurs. Over 5,000 students from 38 countries have entered social venture ideas in the competition and eight student teams have been awarded a total of $250,000 in seed funding. With plans for expansion already in the works, the DSIC promises to fuel exponential growth in student social entrepreneurship across the globe.
The Dell Social Innovation Competition also provides an opportunity for Social Entrepreneurship students at the university to promote the ideas they developed during their LBJ School courses. A real-world incentive, like seed funding, makes for a great classroom experience.
Local social entrepreneur Beth Ferguson views her involvement in the course as a foundation.
"Peter Frumkin's social entrepreneurship course gave me a great framework to write my first business plan and really start to set goals for my own work as a social entrepreneur," said Ferguson.
Ferguson is now serving as the founding director of Sol Design Lab, a graphic and ecological design and consulting firm based in Austin. One of Sol Design Lab's major contributions is the SolarPump Charging Station, which uses solar power to charge electric bicycles and mobile electronics at no cost to the public. The SolarPump, among other projects, helps the organization carry out its mission of creating interactive and inspiring solutions for urban sustainability.
Ferguson's enterprise is just one example of how student ideas can flourish when given support and the opportunity to grow. Additional social entrepreneurship alumni include Melanie MacFarlane and Brian Boitmann, who have both launched successful social enterprises. MacFarlane, who was a finalist in the 2010 Dell Social Innovation competition, now operates a local composting business called Break it Down Boitmann currently is running his venture, a community-share service called Acts of Sharing, on a national scale. Find out more about these projects by visiting their web sites.
Mentorship of university student entrepreneurs is encouraged and invited. The RGK Center would love to have LBJ School alumni act as mentors to the school's budding social entrepreneurs and nonprofit professionals. If you'd like to get involved, please contact Kelly Iverson.