Note from the Austin Alumni Association
Dear LBJ School alumni,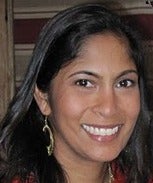 I am really excited about the new leadership at our school and all of the wonderful opportunities we have in store for Austin alumni this coming year. I look forward to working with our new dean, alumni affairs coordinator and all of you to get alumni back in touch with the school. I have had the pleasure of meeting with Dean Hutchings as well as Michelle Potter-Bacon, our alumni affairs coordinator, to discuss how we can strengthen alumni connections to the school. Together we can work towards a more cohesive and collaborative approach to alumni affairs.
We at the Austin Alumni Association are striving to keep alumni engaged and continue to look for ways to get alumni involved. One way to stay involved is to support the Spirit of LBJ Award scholarship. This scholarship is now in its fourth year and is awarded to a deserving student who has completed his/her first year and embodies the spirit of LBJ. The nomination process will begin in April and conclude in June. The award winner will be announced at our Annual Welcome Happy Hour in August.
Another way to become involved is to volunteer for a student/alumni lunch or dinner. These are informal gatherings of current students and LBJ alumni to get to know each other over a meal, either at a restaurant or in an alumnus' home. If you are interested in volunteering, fill out the form here.
We run solely on the support of alumni. We could not sustain the Spirit of LBJ Award scholarship and all of the networking opportunities we provide for alumni and students without your help. Please visit us at www.lbjalumni.org for details on the Spirit of LBJ Award, upcoming events and ways you can stay connected to the LBJ School.
Thank you for your continued support.
Sincerely,