Alumni Awards and Recognition
LBJ School alumni take the mission of public service out of the classroom and into the workplace to truly change the world. The School and The University of Texas at Austin strive to recognize outstanding alumni achievement. Find out more about exceptional alumni through the following programs.
The Distinguished Public Service Award was established in 1989 by the LBJ School Alumni Association. The award is presented each year to an LBJ School alumnus whose career and public service record best represent the values on which the School was founded. Nominations are accepted throughout the year and the selection is made in the summer. The winner is presented with their award at an annual reception sponsored by the Dean of the LBJ School.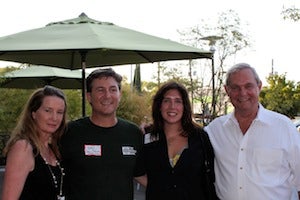 The Austin-Area Alumni Chapter established the Spirit of LBJ Award to encourage students to be involved in the greater LBJ School community and to reward those who go above and beyond the norm. Participation by a student in the many organizations, committees, projects, and other endeavors at the LBJ School not only increases the value of an LBJ degree for the student but also for every graduate.
A second year student receives a gift up to $500 and is publicly recognized at a public event hosted by the Austin-Area Alumni Chapter. Read more about the current and past recipients here.
Find out more about the Spirit of LBJ Award and the nomination process.
Created in 1958, Distinguished Alumnus Awards are granted annually to alumni who have distinguished themselves professionally and through service to The University of Texas. The awards are given on a Friday evening before a home football game. Texas Exes recognizes as many as six Texas Exes.