Austin Alumni Chapter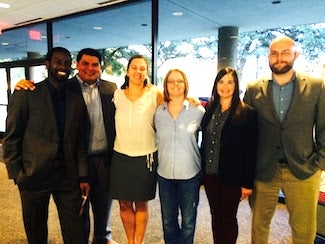 The mission of the Austin Alumni Association is to promote the recognition, welfare, and progress of the Lyndon B Johnson School of Public Affairs at The University of Texas at Austin community and of Austin area alumni.
The objectives are:
• To generate and maintain widespread interest in and commitment to the School by its alumni, professional groups, governmental agencies, and other individuals
• To serve the professional and educational needs of the graduates of the School, and to promote cooperation and communication among the alumni
• To ensure a continued link between Central Texas alumni and LBJ School Facuty and offer current LBJ students opportunities to interact with and learn from the alumni community
• To manage and maintain the "Spirit of LBJ" Award given each year to a deserving LBJ School student.
Stay in touch! Contact the Austin Alumni Chapter by e-mail to find our more about the many events and opportunities available.
Board Members
2014-2015
Officers

Julie Lindsey (MPAff 2013) President
LinkedIn
Jonas Miller (MPAff 2012) Vice President
LinkedIn
Andrew Hoekzema (MPAff 2008) Treasurer
LinkedIn
Racheal Kane (MPAff 2013) Secretary
LinkedIn
---
Garry Davis (MPAff 2013) Member At-Large
LinkedIn
Gabriel Falcon (MPAff 2013) Member At-Large
LinkedIn
Colleen Kajfosz (MPAff 2009) Member At-Large
Amy Martin (MPAff 2009) Member At-Large
LinkedIn
Leila Melhem (MPAff 2012) Member At-Large
LinkedIn
---
Sherri Greenberg LBJ School Faculty Adviser
LinkedIn
Miranda Hoff (MPAff 2015) 2014-2015 GPAC Representative
LinkedIn
Darren McDivitt (MPAff 2016) 2015-2016 GPAC Representative
LinkedIn
---