A Brief History of the LBJ School of Public Affairs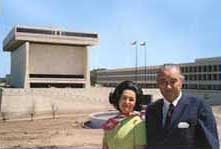 In February 1965, The University of Texas Board of Regents proposed to President Lyndon Johnson and Mrs. Johnson that the University build two different but complementary facilities. One would be a library for Johnson's presidential papers, the other a school of public affairs. Agreement between the President and the Board of Regents was reached in August 1965.
Five years later—in September 1970—the Lyndon B. Johnson School of Public Affairs began classes, although its building—and the adjacent LBJ Library building—would not be completed until the following spring. President Johnson, who had left office in 1969, chose not to be part of the new School's faculty or administration, but he interacted with early students through occasional visits to campus and through informal gatherings at his ranch in Johnson City. The development of the LBJ School's academic program was left in the hands of a visionary group of administrators and faculty headed by John Gronouski, a former Johnson Cabinet member.
In many ways, the LBJ School was a maverick among public affairs schools of the day. Not only did it stray from the traditional political science and public administration models, but it introduced a highly experimental approach to training for public service. Dean Gronouski had been U.S. Postmaster General in the Kennedy and Johnson administrations, U.S. Ambassador to Poland, and Tax Commissioner for the State of Wisconsin, and he also had a Ph.D. in economics and university teaching experience. This blend of the academic and the practical became a distinguishing characteristic of the LBJ School: the curriculum combined courses in theory with courses that took students into government agencies to work and conduct research; the faculty included academics from various disciplines as well as practitioners from various levels of government; public service programs included an academic publishing program as well as workshops for government officials. The School's nontraditional approach proved to be extremely effective, and today it is an accepted model for public affairs graduate programs.
The LBJ School originally offered a two-year Master of Public Affairs (MPAff) program, adding a mid-career MPAff program and joint degree master's programs in law and engineering during the 1970s. Over the next three decades, 15 additional joint degree programs (now called dual degree programs) were established; offering M.P.Aff students an increasingly wider range of study options. A Ph.D. in Public Policy was introduced in 1992 and a Master of Global Policy Studies (MGPS) was launched in the fall of 2008, offering nine dual degree programs. An Executive Master in Public Leadership (EMPL) was launched in 2013 and the LBJ School Washington Center, offering unique federally-focused curriculum, was launched in 2014.
The LBJ School has graduated 3,612 master's degree students since its first inaugural class of 1972, as well as 51Ph.D. students since 1996.