Former Deans of the LBJ School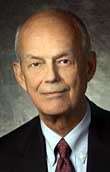 Admiral Bobby R. Inman, USN (Ret.)
(Interim Dean, 2009–March 2010)
Admiral Bobby R. Inman, USN (Ret.), graduated from the University of Texas at Austin in 1950, and from the National War College in 1972. He became an adjunct professor at the University of Texas at Austin in 1987. He was appointed as a tenured professor holding the Lyndon B. Johnson Centennial Chair in National Policy in August 2001. He served as Interim Dean of the LBJ School of Public Affairs from January 1 to December 31, 2005 and was appointed in January 2009 to serve as Interim Dean a second time.
Admiral Inman served in the U.S. Navy from November 1951 to July 1982, when he retired with the permanent rank of Admiral. While on active duty he served as Director of the National Security Agency and Deputy Director of Central Intelligence. After retirement from the Navy, he was Chairman and Chief Executive Officer of the Microelectronics and Computer Technology Corporation (MCC) in Austin, Texas for four years and Chairman, President and Chief Executive Officer of Westmark Systems, Inc., a privately owned electronics industry holding company for three years. Admiral Inman also served as Chairman of the Federal Reserve Bank of Dallas from 1987 through 1990.
Admiral Inman's primary activity since 1990 has been investing in start-up technology companies, where he is a Managing Director of Gefinor Ventures and Limestone Ventures. He is a member of the Board of Directors of Massey Energy Company and of several privately held companies. He serves as a Trustee of the American Assembly and the California Institute of Technology. He is an elected Fellow of the National Academy of Public Administration.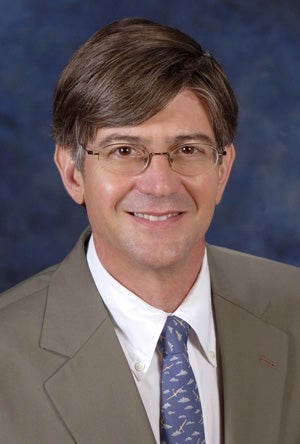 James B. Steinberg
(Dean, January 2006–January 2009)
James B. Steinberg currently serves as the Deputy Secretary of State at the U.S. Department of State. He was Dean of the Lyndon B. Johnson School of Public Affairs from January 2006 to January 2009. Before joining the School, he was the vice president and director of Foreign Policy Studies at the Brookings Institution in Washington, D.C. (2001-2005), where he supervised a wide-ranging research program on U.S. foreign policy.
From December 1996 to August 2000, he served as deputy national security adviser to President Bill Clinton. During that period he also served as the president's personal representative ("Sherpa") to the 1998 and 1999 G-8 summits. Prior to becoming deputy national security adviser, he served as chief of staff of the U.S. State Department and director of the State Department's policy planning staff (1994-1996), and as deputy assistant secretary for analysis in the Bureau of Intelligence and Research (1993-1994).
Steinberg has also been a senior analyst at RAND in Santa Monica, California (1989-1993), and a senior fellow for U.S. Strategic Policy at the International Institute for Strategic Studies in London (1985-1987). He served as Senator Edward Kennedy's principal aide for the Senate Armed Services Committee (1983-1985); minority counsel, U.S. Senate Labor and Human Resources Committee (1981-1983); special assistant to the U.S. Assistant Attorney General (Civil Division) (1979-1980); law clerk to Judge David L. Bazelon, U.S. Court of Appeals for the D.C. Circuit (1978-1979); and special assistant to the assistant secretary for planning and evaluation, U.S. Department of Health, Education, and Welfare (1977).
Steinberg is a member of the Bulletin of Atomic Scientists' Science and Security Board, the President's Council on International Activities of Yale University, the board of directors of the Pacific Council on International Policy, the senior advisory council of The American Assembly's Next Generation Project, the board of advisers of the Center for a New American Security, the board of advisers of The Yale Journal of International Law, and the editorial board of The Washington Quarterly. He also is a member of the D.C. Bar.
Steinberg is the author of and contributor to many books and articles on foreign policy and national security topics, including Difficult Transitions: Foreign Policy Troubles at the Outset of Power, Protecting the Homeland 2006/2007 and An Ever Closer Union: European Integration and Its Implications for the Future of U.S.-European Relations.
Steinberg received his B.A. from Harvard in 1973 and J.D. from Yale Law School in 1978. Steinberg was born in Boston, Massachusetts, in 1953. He is married to Ms. Sherburne B. Abbott, director of the Center for Science and Practice of Sustainability at the University of Texas at Austin. They have two daughters, Jenna, age 6, and Emma, age 4.
Publications:
Coauthor, Difficult Transitions: Foreign Policy Troubles at the Outset of Presidential Power (Brookings Institution Press, 2008);
Author, "Managing Presidential Transitions," The Washington Quarterly (Autumn 2008)
Author, "Real Leaders Do Soft Power: Learning the Lessons of Iraq," The Washington Quarterly (Spring 2008)
Author, "The Policymaker's Perspective: Transparency and Partnership," in Analyzing intelligence: Origins, Obstacles, and Innovations (Georgetown University Press, 2008)
Admiral Bobby R. Inman, USN (Ret.)
(Interim Dean, January 2005–December 2005)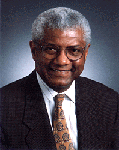 Edwin Dorn
(Dean, Summer 1997–December 2004)
Edwin Dorn served as Dean of the LBJ School from 1997 to 2004. Before coming to the LBJ School, he held a number of senior posts in the federal government. In 1993, he was confirmed by the Senate to serve as an Assistant Secretary of Defense. The following year, he was confirmed as the Under Secretary of Defense for Personnel and Readiness. He was responsible for policies governing recruitment, pay and benefits for DoD's total force of more than three million military personnel and civilians. He also exercised authority, direction and control over the Defense Health Program, the Dependent Schools System, the Defense Equal Opportunity Management Institute and the Defense Manpower Data Center. His innovations included new systems to monitor military readiness and new mechanisms to coordinate legislative proposals.
Prior to his presidential appointment in the Department of Defense, Dorn was a senior staff member at the Brookings Institution, where he developed executive education programs for government and private sector managers. From 1981 to 1990, he served as Deputy Director for Research at the Joint Center for Political and Economic Studies. He created the Joint Center's military affairs program. He initially went to Washington in 1977 to serve in the Carter administration.
A native of Houston, Dorn graduated Phi Beta Kappa from UT Austin and completed his Ph.D. in political science at Yale. He was named a Distinguished Alumnus of UT in 1998. His major publications include Rules and Racial Equality (Yale University Press) and Who Defends America?, ed. (Joint Center Press). He also is the author of dozens of articles, reports, and opinion pieces.
Dorn is chairman of the board of the Kettering Foundation and chairman of the visiting committee of the Institute for Defense Analyses. Other nonprofit involvements include the United Way, the Children's Defense Fund, and the Atlantic Council.
Publications:
Rules and Racial Equality (Yale University Press, 1979)
Editor, Who Defends America? (Joint Center Press, 1989)
Producer of DVD set Civil Rights: From Black and White to Color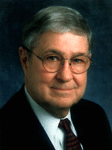 Max Sherman
(Dean, July 1983–May 1997)
Max Sherman has policy interests in practical politics, state government, policy development, and ethics in public affairs.
Sherman was Dean of the LBJ School from July 1983 until September 1997. Prior to his appointment at the LBJ School, he was Special Counsel to the Governor of Texas. From 1971 to 1977 he served in the Texas Senate, leaving in 1977 to become President of West Texas State University. He has a J.D. degree from The University of Texas at Austin and a B.A. in history from Baylor University.
Over the years, Sherman has held numerous national and state appointments to boards and committees studying such topics as higher education (management effectiveness and financing), intergovernmental relations, mental health and mental retardation, hazardous waste management, infrastructure needs and financing, and energy and conservation.
Membership and service on boards include: National Academy of Public Administration, Center for Public Policy Priorities, Leadership Austin, Austin Area Research Organization (AARO), Austin Presbyterian Theological Seminary and Humanities Texas.
Leadership positions: Vice President of the Harry S. Truman Scholarship Foundation (2004 to present); President of the National Association of Schools of Public Affairs and Administration (1988-89); President of AARO (1998); National Committee on Innovations in State and Local Government for the Ford Foundation (1985-98); Commissioner with the Government Ethics Center of the Josephson Institute of Ethics (1989-1998); Chair of the Texas Board of Human Services (1994-1999); Founding President of the Foundation for Insurance Regulatory Studies in Texas (1991-present).
Awards: Price Daniel Public Service Award (2005)--Baylor University; Public Administration Educator of the Year (2004)--Centex Chapter of the American Society for Public Administration; Texan of the Year (1999)--Texas Legislative Conference; Austinite of the Year (1997)--Greater Austin Chamber of Commerce; Distinguished Alumnus (1992)--Baylor University.
During his tenure as State Senator, Sherman was recognized by Texas Monthly in 1973, 1975, and 1977 as one of the ten best legislators; the magazine cited his integrity, intelligence, and "genuine sense of public service."
Publications:
Editor, Barbara Jordan: Speaking the Truth with Eloquent Thunder, UT Press, 2007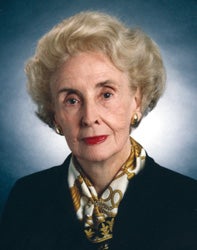 Elspeth Davies Rostow
(Dean, April 1977- May 1983)
An internationally recognized expert on national politics and U.S. foreign policy, Rostow served as Dean of the LBJ School from 1977 to 1983. Prior to that she served as Dean of the UT Austin Division of General and Comparative Studies. She taught at Barnard, Sarah Lawrence, MIT, Georgetown, American University, and the University of Cambridge. Rostow who also served as Stiles Professor Emerita in American Studies and Professor of Government at the LBJ School, taught courses on the American Presidency and U.S. foreign policy until her death in 2007.
Dean Rostow served as a member of the President's Advisory Committee for Trade Negotiations and the President's Commission for a National Agenda for the Eighties. In 1987, President Reagan appointed her to the Board of the United States Institute of Peace, which she later chaired. Dean Rostow was a Trustee of the Southern Center for International Studies (Atlanta) and a former member of the Board of Advisors to the President of the Naval War College (Newport). She also served as Trustee of the National Academy of Public Administration. In 1983-84, she lectured in thirty-four countries under the auspices of the Fulbright Program and the U.S. Information Agency. For five years she was an editorial columnist for the Austin-American Statesman. In 1991, she cofounded The Austin Project, a comprehensive investment program in children and young people.
Alan K. Campbell
(February 1977–April 1977)
Before coming to the LBJ School, Alan K. Campbell was the deputy controller of the State of New York and the creator and director of the Metropolitan Studies Program at Syracuse University from 1961 to 1969.
Campbell left Maxwell to become Dean of the Lyndon B. Johnson School of Public Affairs at the University of Texas at Austin but was immediately tapped by President Jimmy Carter to be chair of the U.S. Civil Service Commission. In this position he led the legislative effort that resulted in the Civil Service Reform Act of 1978. President Carter then named him director of the U.S. Office of Personnel Management. He moved into the private sector in 1980 as executive vice president of ARA Services, joined the firm's board of directors in 1982, and was elected its vice chairman in 1985. Dr. Campbell returned to higher education in 1990 as a visiting executive professor at The Wharton School of the University of Pennsylvania, a position from which he retired in 1993. He continued to serve the Maxwell School as a member of its advisory board until his death in February 1998.
Among other activities, Dr. Campbell was a Fellow and member of the board of the National Academy for Public Administration, a member of the board of the Institute of Public Administration, chairman of the board of the Corporation for Public/Private Ventures, Inc. and of public broadcasting stations WHYY-TV and FM, vice chairman of the Center for Excellence in Government, a member of the National Board for Professional Teaching Standards, and president of the Association for Public Policy Analysis and Management and the National Association of Schools of Public Affairs and Administration. His honors included the Dwight Waldo Award for Contributions to the Literature of Public Administration, the Common Cause Public Service Achievement Award, the Hubert H. Humphrey Public Service Award, and the Gunnar & Alva Myrdal Award for Government Service. He was awarded honorary doctorates by Whitman College, The Ohio State University, and Syracuse University.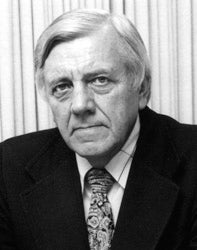 John Austin Gronouski
(Dean, September 1969–September 1974)
Gronouski was born in Dunbar, Wisconsin. He graduated from the University of Wisconsin-Madison in 1942, and then during World War II served as a navigator in the United States Army Air Corps until October 1945. He earned his M.A. in 1947, and his PhD in 1955, both from the University of Wisconsin-Madison.
In 1952, he ran in the election for United States Senate against Joseph McCarthy (who won reelection).
In 1959, he joined the Wisconsin Department of Revenue, and was named the executive director of the Revenue Survey Commission. In 1960 he became the Wisconsin state commissioner of taxation, and he supported John F. Kennedy in the election campaign that year. After his well regarded revamping of the Wisconsin tax system, he was appointed postmaster general by President Kennedy in 1963. He was the first Polish-American Cabinet officer. As Postmaster General, he promoted the original five-digit zip code system, and worked to end racial discrimination against postal employees.
He left the post office in 1965, when President Lyndon B. Johnson appointed him ambassador to Poland.
After the Nixon administration assumed power in 1969, he was asked by Johnson to become the founding Dean of the LBJ School. He remained Dean until 1974. He then retired, and moved to Green Bay, Wisconsin, where he lived for the rest of his life.